Dr. Bob Powell is retiring from UWG after 50 years of dedication to serving students within his teachings of physics and astronomy along with serving as director of the Observatory and a faculty advisor.
In September of 1967, Powell began teaching at West Georgia College at 26 years old. He was teaching many physics courses when he started his own research foundation in the same year.
In 1969, astronomy courses became available and Powell was the only professor on staff at the time who had even peeked through a telescope.
The Observatory, located on the west side of UWG's Carrollton campus, was built in 1977 when Powell wrote a proposal to the National Science Foundation and was funded money for a 14-inch telescope. A building and dome were built to stand over the large telescope. In 1979, the Observatory went operational and has since been a resource and experience for thousands of UWG science students.
"When I was probably in the ninth grade, my father and I had gone to a movie in my hometown of Moultrie, Georgia," said Powell. "When we left, we saw a man who set up a telescope on the courthouse square and he was charging a quarter for people to look at the moon. That was my first and closest experience with the moon."
Powell is still in contact with many of his students, including the students in his very first physics class. For the past 50 years, he has taken the time to learn each of his students' names.
In 2005, Powell became chair of the Physics and Astronomy department instead of retiring.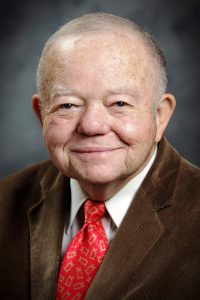 Even a health problem in 2014 did not stop the dedicated professor from doing what he loves. He continued teaching after recovery and decided to retire after exactly 50 years and one semester of teaching.
"The obvious time for me to retire was May of last year but I like the fall semester," said Powell. "I knew there was going to be the total eclipse of the sun on Aug. 21 so I elected to wait until the end of December to retire."
When Powell began teaching at West Georgia College in 1967, everything north of the campus' Back Campus Drive was not built yet. What is now an old storage room in the Callaway building, used to be a working office for Powell and two other professors.
Most of the buildings we know now as the Ingram Library, Boyd, Pafford and Humanities buildings were just being built. All the faculty and staff had meetings in the University's Campus Center, or what is now known as the 'UCC', where the dining hall was also located. The HPE gym was the hot spot for students because of the swimming pool and basketball courts, since the Campus Recreation Center was not around yet. When Powell first started teaching at UWG, the campus was not half the size that it currently is.
"When I began in 1967, the university's enrollment was something like 2,000 and we of course now have increased over 13,000 students," said Powell. "It was a very friendly campus back then. The students at that time I think worked very hard. I have very fond memories of interacting with the physics majors as well as others that I taught in science courses, compared to today's students who presumably are better prepared. I am not so sure that our current students work quite as hard and really remember and can apply things that they should have learned in earlier courses, however."
In Fall 1971, Powell became a faculty advisor for the Chi Omega Sorority. A member of the sorority and a student in his astronomy class at the time invited Powell to a flag football game. A few days later, the president of the sorority asked him to be their faculty advisor as he served for the next five years.
One of Dr. Powell's biggest regrets in his entire 50 years of teaching was when he gave up being the sorority's advisor to focus on other things. In 1999, a Chi Omega in his class invited the professor to a spaghetti fundraising event. The sorority asked Powell to serve as their faculty advisor again and he accepted and has happily served since. Powell was named Advisor of the Year for all student organizations on three separate occasions.
Powell has not put much thought into what he will put his time towards after retirement. This devoted professor hopes to keep in touch with many of his previous and current students after his time at UWG ends.
"After my retirement in December, I would like to travel," said Powell. "I have been to 45 out of the 50 states. I would also love to do more things with my grandchildren."
UWG will miss this devoted and engaging science professor who has impacted thousands of students for the past 50 years at UWG.
Comments
comments