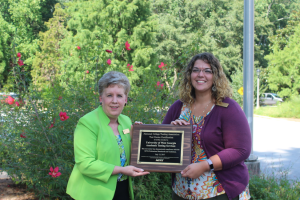 The University of West Georgia's Testing Services Center has gained national recognition by receiving a National Test Center Certification from the National College Testing Association (NCTA). UWG's Testing Center is the sixth in Georgia to have completed the rigorous application process, and earned an NCTA certification, joining just 159 certified centers in the United States and Canada.
NCTA is a non-profit organization dedicated to the promotion of professionalism and quality in the administration of testing services and programs. Throughout the year-long application process, the testing center underwent an intensive self-evaluation, which then got submitted and vetted by four members of the Test Center Certification Committee that work through NCTA.
As part of the student services provided at UWG, the Academic Testing Services works tirelessly to make students' lives easier. The office is run by only two full-time staff members, making this achievement even more impressive.
"This certification is a personal and professional accomplishment because it means that we have been validated as testing professionals who know what to do and how to do it, and under any circumstance, we can be able to perform our assigned tasks," said Francesca Taylor, director of the Academic Testing Services.
Not only does the office provide testing accommodations for students with documented learning and physical disabilities, but they also serve as a site for students taking proctored eCore and UWG Online exams.
"With UWG and Carrollton's continuous growth, it is an accomplishment in itself to be able to service our institution and community successfully as an office of two full-time staff members and two student assistants," said Curry Prothro, the departmental assistant at the Academic Testing Services. "Our test center's achievement of NCTA's National Test Center Certification is icing on the cake."
In addition to serving UWG and the local Carrollton community, the testing center also does a good deal of work for non-UWG students, including providing proctoring services for other colleges and national organizations.
"We provide such services as independent studies, for students who attend schools elsewhere but it's more convenient for them to come to us," said Taylor. "We also administer national exams, such as the SAT and ACT."
Part of the application process included arranging a site visit. Taylor selected two university administrators that were knowledgeable of the office.
"I chose Dr. Lisa Adams Somerlot, director of the Department of Counseling Center since one of our primary responsibilities is to provide testing for those students with documented learning and physical disabilities," said Taylor. "I also selected Katie Ross, who is the associate director of Operations for the Admissions office, because we do a lot of testing for the Admissions office in terms of placement testing."
Somerlot's ongoing perception of his center consistently draws nothing but praise.
"We have had a long standing and excellent relationship with the Testing Center at UWG. Our students with disabilities are successful, in part, because of the Testing Center and their wonderful staff," said Somerlot. "Ms. Taylor and Ms. Prothro are respectful of students and helpful such that many of our students actually enjoy going to the testing center."
The Academic Testing Services office is located in Strozier Hall at UWG's Carrollton Campus. Additional information about the variety of testing services available at the center can be obtained by visiting the center's website at westga.edu/testing or by calling the office at (678) 839-6435.
Comments
comments