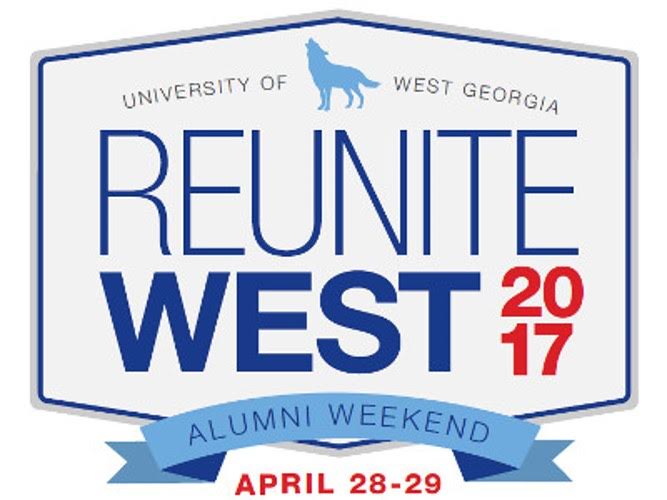 It's time to head back to school for the 2017 University of West Georgia Alumni Weekend. UWG's Alumni Association is excited to host this year's event on April 27-29. Alumni weekend is built to honor successful alumni, gather alumni back together again to catch up and reconnect them with their campus memories.
No matter the major or the year of graduation, these wolves are UWG Alumni for life. "The goal of the Alumni Association is to build and foster new and lasting relationships between alumni and the University of West Georgia," said Denise King, Assistant Director of Alumni Relations and the UWG Alumni Relations Team. "This year's theme lends itself to experiencing college as if you were a student again."
This year's alumni event will involve multiple exciting events taking place throughout the entire weekend. There is a variety of events including the DNCE concert, Milestones Reunion Luncheon, Golden Alumni Reunion, Garden Tea Party and Screen on the Green. Individual colleges and organizations will also host various social events to welcome back their alumni. Some will be open for an open house such as the School of Nursing, College of Science and Mathematics, Waring Archaeology Lab and the Alumni House.
While alumni weekend involves memories of the past its also a moment to look to the future of UWG Alumni and the university. Dr. Marrero will be giving an open forum presentation to highlight his 2020 visions for the university. "After the presentation, the annual meeting of the Alumni Association is held in conjunction with an Alumni Brunch," said King. "This year we are also excited to introduce our first Alumni Beer Tasting event on the square."
The signature event and the most anticipated is the Alumni Awards Gala. The Awards Gala honors alumni and friends of the University for their outstanding personal achievements and contributions to UWG. At this year's awards gala, the Alumni Association will be honoring 13 alumni for their achievements. These awards include the Achievement Award, Loyalty Award, Faculty Award and Honorary Awards.
Graduates automatically become a member of the Alumni Association after receiving a their degree from UWG and there are no fees charged to be a member. "Membership grants you access to networking opportunities, alumni events and special discounts," said King.
For the full schedule of Alumni Weekend, to register or to find more information on Alumni Relations visit www.alumni.westga.edu.
Comments
comments