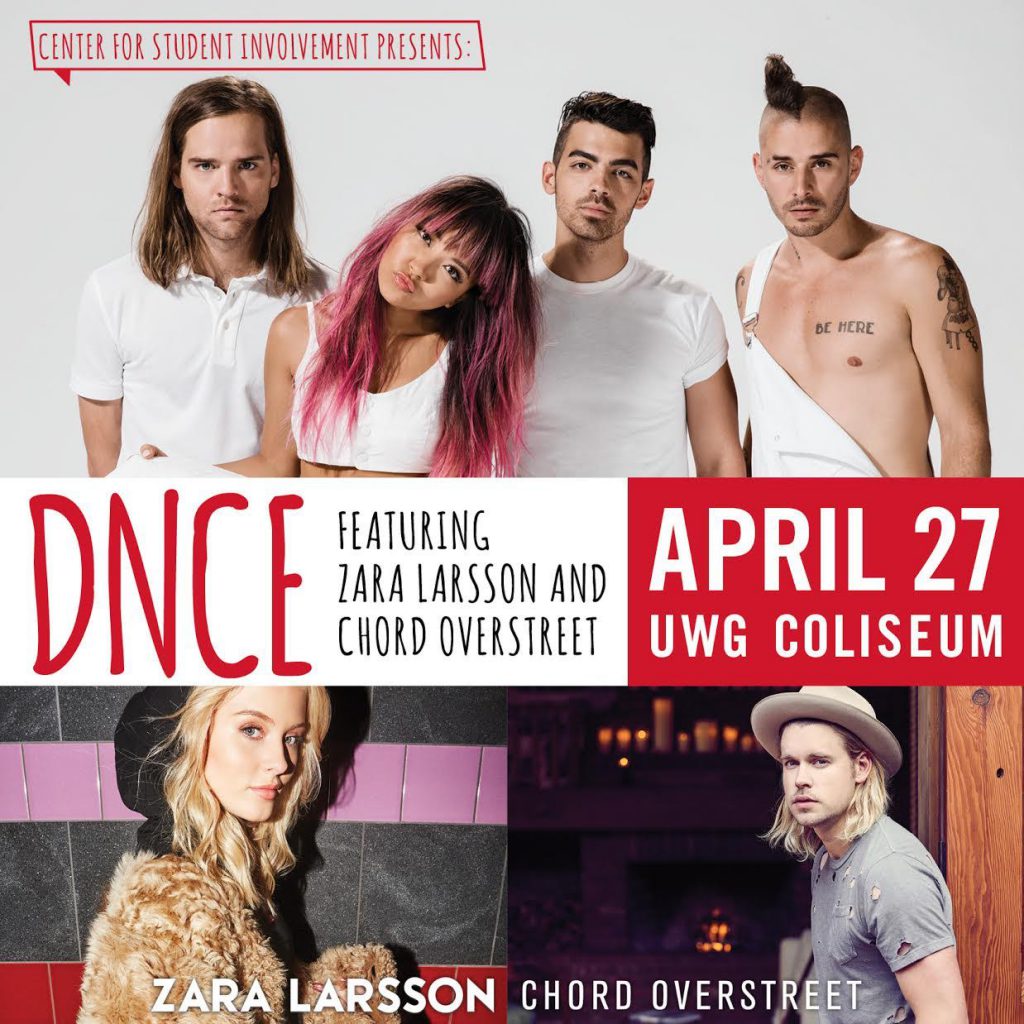 The news is out. Disney Channel heartthrob Joe Jonas is coming to UWG for the spring concert presented by Center for Student Involvement. Jonas will perform alongside with his band, DNCE, and two other successful artists, Zara Larsson and Chord Overstreet from Glee on April 27. In order to arrange a successful spring concert, a vast amount of strategic planning and organizing has to take place.
"I work with a middle agent/company called Concert Ideas and they help give me names of artists within our budget and I get references from other schools who have done similar concerts," said Emily Teitelbaum, Assistant Director for Student Event and Programs for the Center for Student Involvement at UWG.
Not only is researching the artists a vital asset to the process of planning, the steps that are taken to plan the annual concerts are extremely detail oriented along with developing patience as it can take several weeks to perfect the final event.
"After I do all of the research, I then submit a bid or offer letter to that particular artist and they have a couple of weeks to accept or deny that bid," said Teitelbaum. "If they deny it for many reasons, such as schedule conflict or offer was too low monetarily for their liking, then I move on to another artist.  If they accept the offer, then we start the often long contract process.  From there I also have to work with ticketing, marketing, catering, hospitality, security, production and more."
To please the majority interest of the student body, a variety of pros and cons are considered. The amount of time spent planning and organizing the annual concerts at UWG can take several months to plan, so hard work is set into place in order to find the best possible artist that caters to all genre interests.
"I find doing research and getting references for artists beneficial, but also knowing we have to look at our own demographics and students interest, here at UWG," said Teitelbaum. "I think the hardest part is not being able to please everyone because of budget or touring constraints and the vast variety of music there is, that you never will be able to please everyone, in one concert. Concerts often takes over six months to a year to plan in advance, something I don't think people realize sometimes."
Whether it be the fan base of Joe Jonas, the hit single, 'Never Forget You' by Zara Larsson, or the raving Glee fans of Chord Overstreet, the wide variety of genres and low cost to attend the spring concert is expected to bring in a large crowd.
"We have received a lot of positive feedback with this one," said Teitelbaum. "I think especially the fact that you get three great, big acts for the low price of just $10 is great.  Joe Jonas seems to be bringing great excitement, the fact that he will be in our own town of Carrollton. Honestly though, all three acts each have their own great following and fan club and we are very excited to be able to bring this concert to UWG."
Comments
comments