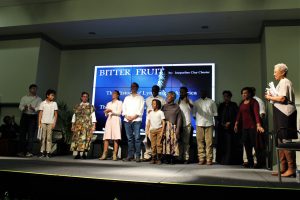 To wrap up black history month, Center for Diversity and Inclusion hosted a theatrical stage reading of the play "Bitter Fruit." Written by Jacqueline Clay Chester and directed by Mia Kristin Smith, this play tells the history of lynching in America, specifically the effects that lynching has had on a family throughout a generation.
Inspired by true events, "Bitter Fruit's" compelling narrative is an intimate examination of communal trauma, generational memory and collective resistance to racial injustice. This story explores the brutal legacy of sanctioned violence against Blacks in the United States during the late 1800s to 1900s.
Chester is a former model, playwright, author, actor, artist and sculptor born in New Jersey. She grew up in Brooklyn, New York and would occasionally visit her mother's hometown in Georgia. When she was a teenager while on a visit to Georgia, she went to the Martin Luther King Jr. Center's exhibition on lynching with her mother. There she discovered a postcard with her mother's hometown and her great grandfather's name on it. The postcard she found of her great grandfather and his two best friends hanging from a tree led her to do some research. She interviewed people from her great grandfather's hometown for over 10 years to find out the truth behind what led to her great grandfather's death.
"I heard all my life that my great grandfather was a hero because he went up against the Klan," said Chester. "People didn't do that back in those days. I mean the Klan had a reputation, you did not confront them.
"Of course, they didn't expect to live and they really couldn't have expected to live through that confrontation," Chester continued. "But enough was enough."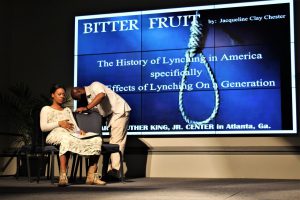 There are many cases, in which, the Ku Klux Klan would display Black peoples death as the result of being hung. However, that is not how some actually died. The Klan did this to spark fear into Black people and prevent others from rising up.
"To my family, George Papa Martin, my great grandfather who owned a restaurant, something that most people didn't do back in those days, was our hero," said Chester. "I hope this play exonerates him and makes him that hero."
The actors were able to successfully bring the play to life and take the audience on a journey through the late 1800s. To do so, they had to fully develop the characters and pull from cases in which they may have experienced injustice themselves.
"Growing up in the South before the civil rights movement. I've seen a lot of changes and I've heard some horrible stories about some things that happened in my family too and I have chosen to not see those with anger, but I don't think I do myself any service by forgetting it. I'm pleased with the progress we've made but I am challenged to know that we have more progress to be made," said actor, Gordon T. Daniels.
This compelling and thought-provoking story acknowledges how many women, men, and children died because of the color of their skin. It highlights the dehumanizing history of Black people present in America. "Bitter Fruit" is not a story that expressed anger from beginning to end. By having moments of conversation about relationships, peaceful family conversations and ordinary topics, it created a more relatable and holistic understanding of that time and the effects on today's society.
Comments
comments