The University of West Georgia's International Student Admissions and Programs (ISAP) has launched a new emergency fund aimed at giving international students a little extra help during a time of need.
Founded in 1968, the Carrollton Civic Woman's Club (CCWC) is a women's civic organization in Carroll County that provides volunteer service to the community. It offers members the opportunity for personal growth and skill development through participation in projects and social activities. ISAP and the CCWC have been involved with one another for over 30 years.
"Originally, the number of international students at UWG was so small that CCWC members were able to entertain these incoming students with a dinner in one of the Members' home," said Nancy Johnson, CCWC's International Liaison. "As more people became involved, it progressed to a picnic at Tanner State Park. Later it was moved indoors due to August being so hot."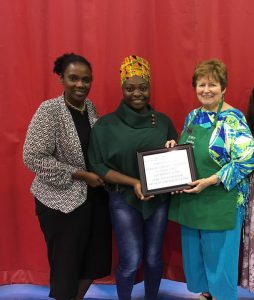 The fund is named after this prestige club to show gratitude for their involvement with ISAP over the years. CWCC also sponsors the fund. It is available to students who are experiencing financial hardship due to extenuating circumstances.
"We are thrilled that our donation is now being used to help the international students in a more personal way," said Johnson. "We just want to help the students at UWG feel at home while here in Carrollton and to know that the community is delighted they are here."
The Emergency Fund is reserved for currently enrolled students who experience a true emergency causing a financial hardship such as money needed for unplanned trip home due to a death or illness of a family member, replacement clothing or books due to a fire or other disaster, medical emergencies or other unforeseen but urgent situations. Although the fund was just launched, it already has a recipient.
Tambe Helen Mpeh, a Cameroonian student, first entered the U.S. in 2016, joining UWG during the spring semester that year.
"It was my first time leaving my family and country, and I was coming for a new study experience," said Mpeh. "When I got here, I was struggling to settle into my new environment, academic system and still experiencing cultural shock."
Within three weeks of her arrival, tragedy struck when Mpeh received word that her mother had passed away. Besides causing her a lot of emotional distress, the situation left Mpeh in a financial state of emergency.
"It more than just broke me because aside from being my main sponsor, my mother was my pillar, confidant and best friend," said Mpeh. "Coupled with all these, her accounts were frozen, and I couldn't pay my fees or have any other form of funding especially since I came as an international student and have limited chances of raising money through loans or credit cards."
Fortunately, the emergency fund proved to be of great help to Mpeh, and she's grateful to ISAP for all the help she received.
"The emergency fund helped me get my basic needs like food and toiletries for a month, and I am incredibly grateful for their intervention," said Mpeh. "I was given hope that someone out there cared about what was going on with me. It made me feel like I hadn't made the wrong decision to have come here, that I could get through the toughest time of my life."
Comments
comments