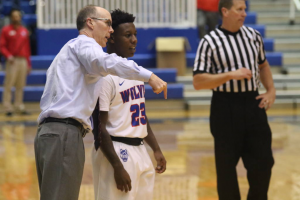 On March 26, the University announced that the current UWG Men's Basketball head coach Michael Cooney will be transitioning into a full athletic administrative position.
Cooney has been a part of UWG athletics for over 20 years. He served as a top assistant coach for a decade until he began his reign as head coach in 2007. During Cooney's time at UWG, he has earned a win/loss record of 168-148 while making four playoff appearances. In one of those appearances, UWG captured the Gulf South Conference Championship in 2016.
During his stint as a head coach, Cooney was also an associate athletic director for many years at UWG. Cooney will now take over solely as the Associate Athletic Director. UWG has a history of narrowing down the workload and obligations of their staff members. For example, Coach Daryl Dickey was the UWG Head Football Coach in 2014 and the Athletic Director at the same time. The Athletic Department felt that they needed a coach that only focused on coaching without having other obligations.
"There is no possible way to give a 100 percent more than once," said Matt Cooke, Assistant Athletic Director for Events, Marketing, and Media. "If you have responsibilities as an administrator and a head coach, it is very difficult to give 100 percent to both."
There has been a nationwide search for a new head coach for the UWG Men's basketball team. They are making efforts to bring in a new style of coaching that will hopefully make UWG a top contending division II team. The motive is to improve the Athletic Department with members like Cooney who have the determination to move the program in the right direction.
Comments
comments