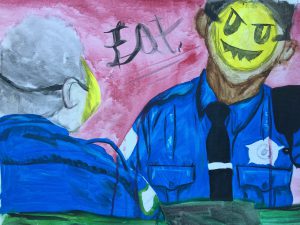 A local artist and coffee shop have recently become subject to intense criticism after publicly displaying artwork that some deemed offensive and inappropriate.
For the last several years Gallery Row Coffee has featured artwork by members of the Carrollton Artist Guild in their store to help local artists sell their work and gain exposure and recognition. The most recent member to have their work featured in the coffee shop is 25-year-old Takarais Billups of Carrollton, Georgia.
"Being a member of the Artist Guild you have the opportunity to post your work whenever there is an opening," said Billups. "The first time I went to the meeting I heard about the opening and I submitted and I got to do the installment."
Billups' installment in the coffee shop featured many pieces which utilized a wide array of colors and unique imagery to convey both his and society's views on various social issues including profiling, crooked cops and social awareness. Many of the pieces naturally led the public to be intrigued, but one piece in particular, aptly named "Observe", stood out from the rest as it caused a public uproar after a concerned customer posted a photo of the piece to Facebook on Aug. 26, nearly 40 days after its original installment.
"Observe" is a painting that depicts two police officers who are facing each other while sitting in front of a collection of video surveillance cameras. Both of the officers depicted in the painting are also seen wearing circular yellow masks that conceal their faces with a jagged smiley-face. With the complex imagery also came a variety of complex interpretations that differed from Billups' original purpose as a fair majority of the public labeled the piece as anti-police and offensive.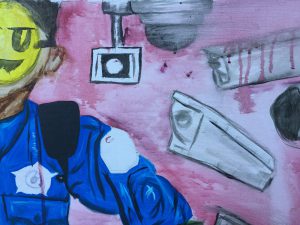 "To me the piece had a dual-meaning," said Billups. "The police force is under a lot of fire from the public and the other side and there are good cops and bad cops. I've had really good run-ins with the cops and I've had really bad ones and it really represented that someone is watching whether you're doing the right thing or you're doing the wrong thing and you should be observant of what is going on around you."
The public's interpretation of the painting caused both Billups and Gallery Row to be associated together as anti-police and cop haters. Members of the community surrounding Carrollton and customers of Gallery Row began to share their opinions on the piece, how upsetting it was that the art had been hung up on the walls and even began to give the company low ratings online by the dozens. This rapid feedback placed a burden on the company and led them to ultimately remove the artwork in response to intense criticism and to clarify that they are actually pro-police.
"We removed a painting which generated many false accusations that we are anti police and anti law enforcement," said the owners of Gallery Row in a statement posted to Facebook on Aug. 27. "Nothing could be further from the truth."
After removing the artwork from the view of the public the owner of Gallery Row, Russ Green, contacted Billups by email to express his regret that the pieces be removed and to also assure him that this incident was the first of its kind in the many years that the business has partnered with the artists guild. Green also expressed the difficulty of the decision in the business' official statement as some thought it right to remove the work while some thought it wrong to allow the opinions of the public silence the expression of art.
"There are those who said we were wrong to put it up and others who said we were wrong to take it down," said Green. "A coffee shop, after all, should be a place for those to express themselves and where different points of view are welcome."
Despite initial disappointments and setbacks for Billups and Gallery Row they have both received large amounts of hope, confidence and support as friends have continued to encourage Billups and faithful customers have shown their unwavering support for the coffee shop. This was especially surprising after so many people had publicly made their feelings known through comments of anger and judgement.
"I was content with how things went down because a lot of people reached out to me and told me that they supported my work and what I was doing and that they enjoyed the piece," said Billups. "I'm happy that the whole situation happened because it brought more exposure to me."
Billups plans to continue creating art that expresses his point of view and hopes that he can use it as a platform to speak on social issues in Carrollton and eventually on a much larger scale. He believes that art should sometimes cause controversy like "Observe" has in order to start necessary conversations and move people's attitudes toward resolving any issues at hand.
Since the removal of the artwork on Aug. 26 Gallery Row has appeared to be nearly as successful as they had been before the art controversy took hold within their brick walls. The company also held special "Meet the Artist" events on Sept. 7, 10 and 13 that gave the public two hours to meet Billups, communicate their thoughts about his artwork and create their own art in the store with the artist himself. As it would turn out, the thing that appeared to endanger the small community of Carrollton may have actually worked to bring it closer together.
Comments
comments