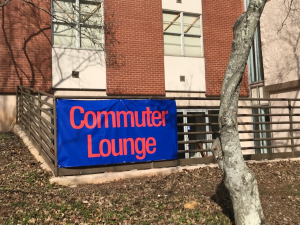 UWG has many lounges and lounge areas where students can often be found studying, relaxing between classes, and working on assignments. Places like the upper floors of the library, Campus Center Game Room, and areas in the TLC are all frequented by students looking for a quiet place for themselves and friends. No lounge is more recently underutilized than the Commuter Lounge located in the basement of Strozier Hall. The lounge, once located in the University Community Center (UCC,) was moved to the basement of Strozier hall in August 2014. It has seen a considerable drop in both staffing and student traffic.
The move was meant to accommodate other space needed in the UCC and to create a space that would facilitate relationships between on-campus and commuter students. The move to Strozier Hall has provided commuters new access to things like laundry services and a kitchenette. However UWG was not able to give it proper attention until Emily Teitelbaum, Associate Director of Student Involvement and supervisor of the Coordinator of Volunteer Programs, was able to take it over.
"We wanted to create a better on-campus home for commuter students​," said Teitelbaum, "But the traffic does seem less than what it used to be in the UCC, but we are actively working to change that and get the word out more about the Commuter Lounge." However, those efforts have been mostly fruitless.
"I didn't even know we had a lounge for commuters until I got this job," said Michelle Hay, a student assistant working in the commuter lounge. "It is always really quiet. People usually just come in to eat lunch or nap. I don't think I've seen more than three people in here at once this semester."
At its new location, the commuter lounge is seeing little over seven visitors a day. Compared to the access to printing, game systems and television that the last location offered, the new location of the commuter lounge seems to have made it a shell of its former self. However, there are now plans in place to help the lounge make a comeback.
Along with the plans to fix the lounge's broken television and microwave, Teitelbaum hopes to spice up the lounge space as a while to attract students. She also plans to add programming, more equipment and a printer to help students.
"I would love to see more students take advantage of this space. It is such a great tucked away nook for students to hang out at. Some commuter students have called it their home away from home," said Teitelbaum. "We also hope that with more programming and awareness of the location, will add even more traffic and usage. We are excited to offer new and exciting aspects to the Commuter Lounge and hope that people will stop by and check it out.​"
Despite the decline in traffic, the Commuter Lounge still remains a prime lounge at UWG as a place for students to rest, study, play games and possibly even do laundry if needed. Though a bit unknown, it seems that it might not remain that way forever.
Comments
comments