A new women's Christian fellowship group is starting at UWG this fall. This community called Delight Ministries focuses on building Christ-centered relationships and providing a sense of community among college campuses.
The organization has chapters all over the country, including chapters at Furman University, Pepperdine University and Texas A&M University, to name a few. The ministry began when two young ladies met in college and became best friends. They then connected with a third girl, and after spending summer apart, the three of them stepped up and decided to start a Bible study together. A couple of weeks later, the girls had their first Bible study, and it was an immediate success. Now another group of girls are following in the footsteps of Delight Ministries' founders and stepping up to the plate by bringing Delight Ministries to the University of West Georgia.
"I become passionate about things really quickly," said Haley Casola, West Georgia's Delight Leader. "So when I found out about Delight and I knew that I wanted to bring it here and get it started now."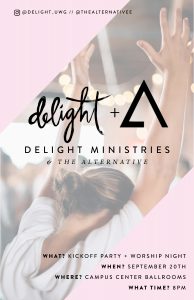 Reagan Biddy is another student who is on-board with the new ministry. Casola reached out to her, asking if there was anyone in her sorority, Alpha Xi Delta, who would be interested in also being a Delight leader. While Biddy asked around her sorority, deep inside she really wanted to be a part of the Delight team. After asking others and not receiving any enthusiastic replies, Biddy used it as an opportunity to let Casola know that she wanted to be a part of Delight Ministries.
"The purpose is, in my words, to bring college women together and have Christ-centered relationships with these people," said Biddy. "It's about bringing women together to talk about things and have Christ-centered relationships."
Biddy and Casola, along with a group of other girls, have been working together to get Delight Ministries up and running on campus.
"The process is still going on right now, but the vision I had, especially with the first step, was the leadership team," said Casola. "So, that was going to be the team of people that were going to help me bring it to campus. I wanted to have a very diverse team and have women from different areas of campus. To do so, I made sure to get a girl from each sorority on campus and then two women who aren't affiliated with Greek at all."
While Casola and Biddy are excited about starting Delight Ministries, there is one thing the Delight team is trying to push for. Because the team consists of so many girls in sororities, the concern is that people who aren't in a sorority will feel left out.
"What we really want is a very diverse group of women," said Biddy.
Casola agreed with the idea that Delight should be inclusive.
"I hope as it goes on, it doesn't feel like another clique or another secluded organization," said Casola. "I really wanted there to be some sort of community where anyone can feel welcome. It doesn't matter if you're not involved in anything on campus. It doesn't matter if you're super involved on campus. It doesn't matter if you're the A+ Christian, or if you have questions about who God is," said Casola.
The Delight team has some big things planned for the organization, including the kick-off event on Sept. 20.
"Sept. 20 is going to be so cool because we have The Alternative coming," said Biddy.
The Alternative is a monthly worship gathering based out of Newnan, GA, for college-aged students.
"And we are going to give away free Chick-Fil-A for the first 100 students at the door," Biddy continued.
As the Delight team preps for the kick-off event, they also have a lot of plans for Delight throughout the semester, but their main goal is to bring girls together and make everyone feel welcome. And Casola has a message for every girl on campus.
"If you've ever felt unworthy or unwelcome, come to Delight where you're going to be accepted as you are."
Comments
comments