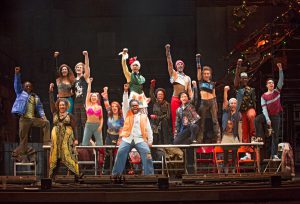 The musical that completely shook the American theatre world in 1996, stopped at the Fox Theatre and put on an outstanding performance. Rent, on its 20th anniversary tour managed to captivate the Fox audience in a way unlike any other.
After five hundred twenty-five thousand six hundred minutes and 21 years, Rent is still sharing the importance of living in the moment; something that Rent creator, Jonathan Larson lived by in his bohemian life. Now directed by Evan Ensign, the cast of the 20th anniversary tour did an exceptional job portraying this lifestyle just as the way Larson would have wanted it.
The plot is based around two roommates living in New York City named Mark and Roger and a community that created a close bond (some friendships and some lovers) over the hardships they were facing. During this era, a strong AIDS/HIV epidemic was spreading rapidly. Rent gave insight into what it was like dealing with diseases, being poor and ridiculed for their way of life. Though the characters faced injustice, they held onto their love for another and the need for truly enjoying the present moment.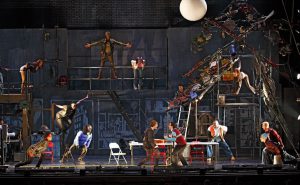 While the show was based around love and sadness, anger made its way into numerous scenes. The characters rioted against the exploitation they faced after being forced to move out of their apartment due to Mark and Roger's former roommate, Benny becoming the owner of the building and constructing a studio. Not only did this affect Mark and Roger, but the entire community. The homeless who lived around the building had to leave along with the rest of the crew who had no other choice.
As each scene unfolded, the characters only grew closer throughout their pain. As a theatregoer, it was an amazing experience to watch the connection that each character had with one another. The cast brought a unique energy to the atmosphere leaving the audience wanting more. Their talented artistry sustained Rent's prestigious reputation through incredible vocals, instrumental and highly regarded choreography.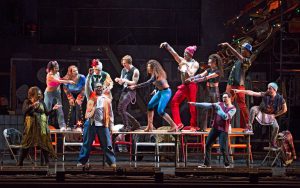 Rent is a love story that stretches much deeper than a romance. It is a love story that is expressed through poverty, pain, disease, suffering and unfairness. The inability to live the way in which they wish is what keeps the musical alive today. The injustice the characters have endured translates to many of the inequities many of us face today as a society. This edgy Broadway hit has stood the test of time and is more relevant now than ever.
Comments
comments