Tabernacle Baptist Church is inviting all of Carrollton to come enjoy the family fun at their annual Fall Festival. This year will be the 18th year Tabernacle Baptist Church will host their Fall Festival, which will be held in the church parking lot from 3-5 p.m. on Sunday, Oct. 29. This event is great for all friends and family to come together, hangout, and have a good time.
Each year there are different prizes, new games, and plenty of unique activities for guests to take part in. This year there will be carnival style games, rides, food, music and activities that will bring interest to all ages. There will be popcorn, hotdogs, boiled peanuts and also cupcakes at the cupcake walk. Games will include skeeball, pig races, soccer kick, football throw, frog jump, cow roping, tic-tac-toe, a giant slingshot and many more.
"This year we will have a 24 person ride similar to the Tea Cup ride at Disney and we will have a 40 foot inflatable obstacle course, an 18 foot inflatable slide, along with our traditional Hayride," states Valerie Cook, active member of Tabernacle Baptist Church.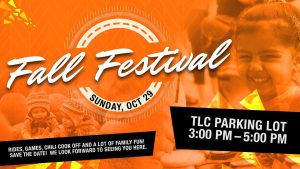 Their Chili Cook Off continues this year with two categories, regular and hot. After the judging of the best three in each category, the winners will be announced and the chili entrees will be available for tasting to the crowd. This has become a famous and family friendly competition between locals currently living in Carrollton. At the end of the cook off, there is plenty of opportunity to trade recipes, or you can keep it your family secret to carry on for many years to come.
There will also be a Cakewalk which is mainly for the children but is open for everyone. There is also a kiddie area for the toddlers to play games. There will also be a band performing appealing to all ages, children to adults. The band goes by the name "Little Creek" and will be playing bluegrass and bluegrass gospel.
For the younger children, there will be a face painting station where they can become their favorite superhero. There will also be a crazy hair station for all children attending to allow them to have the hair style they've always wanted.
"I encourage everyone to come out to this event because is is a great opportunity for our community to come together and enjoy the Fall and share in all God's blessing in a safe and friendly environment," said Cook.
There will be a photo booth decorated in a beautiful Fall setting to allow family and friends to capture the moment. This years Fall Festival is always fun, but this year is expected to be better than ever.
Comments
comments