UWG will host "Build a Better Future with Your Money" Oct. 24 at 11 a.m. in Ingram Library. The event will be presented by economist Kim Holder and will focus on students planning a sustainable financial future.
"Students should attend this event if they are interested in finding their own path to a better financial future and getting started on that path today instead of 'someday'," said Kim Holder.
Holder is the Director of the UWG Center for Economic Education and teaches the university's Financial Literacy course. She is very passionate when it comes to pushing students to make financial planning an everyday priority. Her speeches emphasize the importance to stop waiting and start doing.
The significance of this matter has led her to travel the nation speaking to groups at different universities to help those outside her region become smarter financially.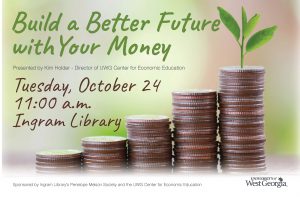 "The biggest thing that college students need to know is that they are not alone, most people struggle with their personal finances," said Holder. "They worry, they don't know what to do – this is all totally normal and there are resources here to help."
Although the world of finance seems overwhelming, Holder is prepared to make the understanding process less complicated. She will connect with the students by conducting step by step lessons in the simplest form. This will help grasp the importance of financial planning so it can pay off in their future.
"I understand that if I help students today, it will change the future of the world I live in," said Holder. "That's powerful and a great motivator to continue to bring this message to young adults all over the world. We have within us the power to change our financial future."
Holder hopes her passion to help those with financial struggles will influence young adults to start their new journeys. She knows the best outcome is when people act now rather than pushing it off until they are older. The sacrifices will be greater and the impact is not nearly as strong if students wait to make a change. She believes the greatest financial benefits will be received when people start their turnaround young. The small changes today will definitely lead to accomplishments down the road.
Comments
comments