Across schools and universities across the country, including here at West Georgia, one of the most glamorous and prestigious titles for anyone to earn is that of Homecoming King or Queen. Earning such an accomplishment means much more to the students selected than just the title itself. It is a testament of hard work and dedication outside of the classroom and certification of the character of these students, and this year's Homecoming King and Queen are pure examples of just that.
The 2017 Homecoming King and Queen are David Ndozi and Victoria Jones. The Homecoming Crown was presented and passed down from last year's homecoming winners Earvin Anumgba and Katie Barrow in front of a packed University Stadium crowd.
Jones has shown through a multitude of extracurricular activities the art of leadership and perseverance. She is the news editor for The West Georgian, a senior editor for Her Campus UWG, a member of the UWG football recruiting team, and is also Chapter Chaplain for Kappa Delta sorority who nominated her as Homecoming Queen.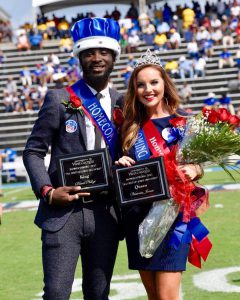 A full Homecoming Pageant takes place for each nominee with an entire interview process that determines who will be selected to the Homecoming Court. That is only the first part of what is a long and complicated process.
"After becoming nominated I participated in the Homecoming pageant where I was narrowed down to the top 10 girls," said Jones. "Each girl and boy had the opportunity to answer a UWG related question at random. The judges then picked the top five girls and boys and we were announced as the UWG Homecoming court. It was the most exciting feeling ever. I remember being thrilled that I had this amazing opportunity."
The process that it takes after nomination to become Homecoming King or Queen is much more than simply waiting to hear your name called by the announcers. In the end, it is a moment that is fully worthwhile.
"When I heard my name over the loud speakers I was probably the happiest girl in the world," said Jones. "I couldn't believe that I was awarded the biggest honor of all. I couldn't stop smiling and I felt like a total pageant girl who just won Miss America."
Nodzi is apart of numerous student involvement organizations including the Phi Delta Theta fraternity, National Society of Collegiate Scholars, African American Male Initiative, Student Government Association, Interfraternity Council, African Student Association, and Student of Caribbean Ancestry. Although Ndozi did not plan on participating initially, he was approached by multiple organizations before deciding to take on the nomination by the College PanHellenic Council. He chose CPC because he got to represent all women in the council, including Sigma Kappa.
"I was honestly shocked when my name was called because I was not expecting it by any
means," said Ndozi. "I am sure you can tell by the pictures that this is probably one of the most incredible things that has happened to me this year. Even though it still feels unbelievable, I am very excited and thankful to be crowned King and I am grateful to the University of West Georgia for the opportunities I got. I will always be an ambassador of this great institution and also a proud wolf."
Ndozi decided to do a very selfless act with his crown and sash. He donated them to his fraternity house to use as decoration as his parting gift since he is graduating in the spring. It will become a great addition to the house that he will be reminded of every time he comes back to visit as alumni.
It is an unforgettable moment for the King and Queen as well as everybody that is involved in the process. For Jones and Ndozi this is something that both will remember for the entirety of their lives, as their names are now forever cemented in UWG history.
Comments
comments