The Tree of Forgiveness is Prine's twenty-fourth album and his first to feature all new and original content in the past 13 years. The album sees a much older Prine reminisce upon sweet memories of a life with adventure, love, loss and somber regret while never straying far from the fine-tuned humor that is in itself unique to the 71-year-old icon.
The 10 track album spans the course of 32 minutes and shows multiple sides of Prine that have been both very familiar yet uncommon over the course of his past 47 years in the music industry. On The Tree of Forgiveness we are given a glimpse into the life of a man who has come from a small, humble background, taken opportunities to express himself, learned lessons and ultimately had the pleasure of doing what he loves while never losing himself in the process. This makes the album both an honest display of personal character and a type of overall narrative of the Chicago mailman turned songwriter who would leave an eternal stamp on multiple genres of music.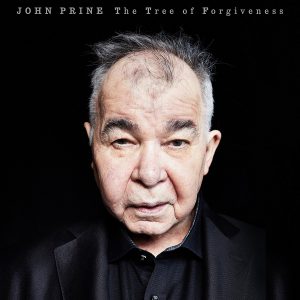 Prine's unique style and sound have mostly held true through the decades and continue to do so on his latest album but his vocals have become noticeably lower and gravelly since his bout with cancer in the late '90s. This low, unique, voice wraps itself around a wide range of musical elements that include bouncing bass lines, simple harmonies, hopeful guitar melodies and slow downtrodden strums to effectively and collectively make The Tree of Forgiveness a complete roller-coaster of an album.
The album opens with the upbeat "Knockin' on Your Screen Door" in which Prine lays out a narrative about a lonely older man who could use company and help around the house. In the song he implores a neighbor to find him some help while also telling his somewhat depressing story of how he ended up alone after his family left him. The track is not all a dismal affair however as Prine is clear to include his excitement and humor in the story and show a sense of content despite his current and lonely situation.
The tone and mood of the album begins to shift in the fourth track, "Summer's End," as Prine mournfully sings for a past love to come home over the slow, sentimental picking of an acoustic guitar. The shift comes surprisingly amid a slew of upbeat stories that are full of hope and good memories, forcing listeners to step back and prepare themselves for the next five tracks which are highly self-reflective and sentimental. Among these five tracks is the eventual upswing of tone in the penultimate "God Only Knows" in which Prine reflects upon the price his decisions will have on his life now and after death. This is also the most star-studded track on the album as Prine is joined by folk superstars Jason Isbell and Amanda Shires who provide harmonies in the chorus.
The final track on The Tree of Forgiveness is the half-spoken half-sang celebration "When I Get to Heaven" in which Prine anxiously looks forward to an exciting afterlife. The song includes Prine's plans to enjoy cocktails, be with deceased family, kiss pretty girls and, in true Prine fashion, "smoke a cigarette that's nine miles long."
In the end, both longtime fans and new listeners can find some way to enjoy The Tree of Forgiveness as a complete and unique album by a completely unique man who has refused to lay down despite being one of the last of his kind left standing. Age seems to have not slowed Prine's wit and from what can be gathered from the album, a long life has not made him any less willing to live smiling.
Comments
comments