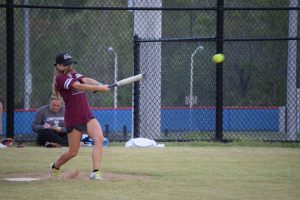 Intramural sports are offered at UWG to give a competitive, structured environment for its students to participate in team sports. On March 26 the season for intramural softball and 4v4 flag football began. This is the first year that 4v4 flag football will be an available option. Previously, there were two 7v7 leagues.
The beginning four weeks are for the regular season, leaving a final week for playoffs which lead to championship night. For intramural softball, championship night is April 26 and intramural 4v4 flag football championship night is April 29.
Participating students used imleagues.com to register to participate which is accessible through the MyRec portal. Current UWG students are eligible to participate as long as they are paying the campus center fee.
For intramural 4v4 flag football, The National Intramural-Recreational Sports Association rules are used. These are the general rules for all campus recreational sports, which are slightly changed every two years. The rules for intramural softball are based on the rules created by the American Softball Association, which are slightly changed every year. The organization sends the rules and the UWG committees adapt the rules to their playing styles. This year is the first year the rules for intramural softball have been changed.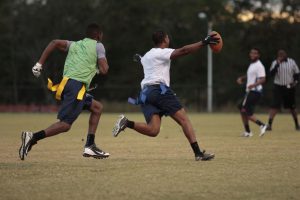 "One of the things we're doing this year is three pitch, so batters have three pitches to hit the ball and that third pitch if it's not a fair ball it is an out," said Brandon Barnes, Graduate Assistant of Competitive Sports. "That is one of the newest rules and one we adopted. The reason we do that it makes it more fun and also for time restriction it makes it a little quicker for us."
The biggest expectation for teams is that the players maintain good sportsmanship. If a team does not meet at least a 3.0 in sportsmanship rating they will not be able to participate.
"Athletics does it as well, they promote good sportsmanship. If you go to an athletic game, they have the sportsmanship talk in the beginning," said Barnes. "That's something we try to communicate with all the participants through captains meeting and every meeting at the field they get the same have good sportsmanship, respect the players and the teams."
Through intramural sports students have the opportunity to participate in sports they love or have always wanted to try. Due to there not being tryouts, students are able to participate in any sport of their interest.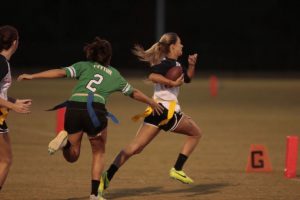 Teams are formed in a few different ways. Team captains can pick a team and invite students to be a part of their team or someone can request to join a team that has already been formed. There is also an option to join as a free agent where captains can choose people to join their teams based on the information they have provided about themselves.
Intramural sports is beneficial for students because it gives them the opportunity to play sports that are not as demanding, but the same relief of stress as playing for the traditional sports teams. It is a time to meet new friends and make new connections that can help students later in their future.
Comments
comments