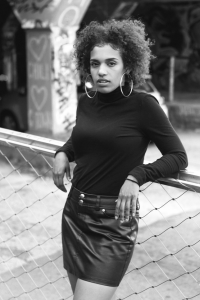 Douglasville native Cymphonie Williams, the owner of online thrift store New Age Thrift LLC. created her own line of fashion in hopes of relieving the stresses of shopping.
Fashion always repeats itself and for fashionistas, getting one of a kind pieces are essential. More often than not, cool and trendy items usually come with a steep price and can be very expensive. This can be very discouraging to a fashionista on a budget. Fortunately, within the past decade thrift and vintage stores have grown tremendously and have become extremely popular.
Shopping at thrift stores can bring an element of surprise because you never know what you will find. This can also be a very overwhelming experience. Having to look through racks of clothes with no guarantee of finding a cool vintage gem can be stressful.
In 2006, the world was introduced to the online thrift store Nasty Gal. This brand took the fashion world by storm by taking away the stressful element of thrifting and turning it into a pleasant experience for all. Being able to still find stylish vintage pieces in the comfort of your own home was an idea that Williams thought was amazing and used as a way to express her love for fashion and brand herself.
"I've been thrifting for years now and I have always been a fan of old-school everything," said Williams. "Especially, fashion in the 80s and 90s. I thought it would be cool to incorporate the two and provide a more convenient way for people like me to find clothing that matched that look."
This 21-year-old fashionista has always expressed herself through fashion with her cool and effortless style. With an eye for spotting trends and unique pieces, running an online thrift store is perfect for her. Williams prides herself in being creative as she creates look books and collections for all of her clothing pieces to separate herself from the rest. This allows her to express her creativity through unique direction while making her vision for each piece come to life.
Every article of clothing in Williams' store has a story and caters to all types of people. Williams recently came out with her Black Collection, featuring all black thrifted pieces in honor of Black History Month. Various other collections by Williams include a denim and velour collection, just to name a few.
"I love that fashion doesn't have an exact definition," said Williams. "Fashion is a form of expression. Expressing who you are and what looks good to you. Fashion is forever evolving and true style never dies."
Collaborating with photographers and models all around the city of Atlanta, Williams highly supports other artists.
"I love that they can provide you with different perspectives and allow you to see things differently," said Williams. "We can have the same concept but different visuals; I love being able to intertwine the two."
Williams wants New Age Thrift to become more than just a thrift store but more so an online community that other creatives can use to also share their work.
"I love that at the end of the day I'm doing something that I love. I don't just own a store, I'm creating a community of artists that can all grow together,"said Williams.
Comments
comments