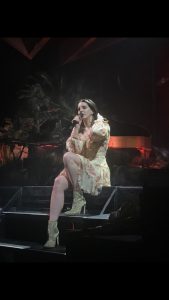 On Feb. 5, 2018, Lana Del Rey returned to Atlanta to perform at Phillips Arena as a stop on her "LA to the Moon Tour," and 20-year old Carrollton native, Popphan has been a die-hard fan of Del Rey for the past six years, and when she found out that Del Rey's tour was coming through Atlanta, there was no one that was going to prevent her from seeing her idol.
This performance at Phillips Arena would be Del Rey's first time returning to Atlanta since the summer of 2015 during her "Endless Summer Tour." Popphan attended the 2015 concert, but she attended the concert through general admission. Popphan coughed up over 300 dollars for a VIP pass to Del Rey's latest Atlanta concert, but that wasn't the only investment that she made in order to make her night memorable. Popphan also rented a hotel room for two nights, waited for countless hours in the cold, and wrestled her way to the front row to catch a glimpse of Del Rey.
When Popphan and her friend arrived to their hotel room at 7:30 p.m. on Feb. 4, they emptied their bags and attempted to catch a bit of sleep before their long night. Popphan failed to sleep during those short amount of hours due to excitement.
Instead, she packed her necessities and headed down to Phillips Arena at 2 a.m. to claim her spot in line. Popphan arrived at her spot in line with nothing but two pillows, two blankets, eight waters, a box of Cheez-Its and the clothes on her back to embrace the 30 degree weather. Popphan waited in line by herself until noon until she was joined by a friend.
Popphan remained at her spot in line waiting for the gates to open at 7:30 p.m., and Popphan gave a one word reason for her 18 hour wait to see Del Rey, "passion." Since Popphan purchased VIP tickets, she was able to enter the concert 30 minutes prior to all other attendees.
Popphan walked into the arena as the 16th person to enter, and she assumed her position in the front row. Once she got to her front row spot she began to shed tears over the fact that she was about to see her idol. A fellow VIP ticket holder that Popphan met through her Lana Del Rey fan page, known as, "trashymagick," consoled Popphan and told her, "Let it out girl." This was an emotional moment for Popphan, but it only escalated as the night went on.
"The songs that she played during her performance just reminded me of all the good times in my life. It reminded me of riding around in my car with the windows down while blasting her music," stated Popphan.
Kali Uchis was the opening act for Del Rey, and Popphan enjoyed Uchis' performance, but when Del Rey came out, Popphan lost all emotions. In awe of her favorite artist, Popphan soaked in every moment of Del Rey's performance. Popphan took pictures, videos and had the time of her life, but her lifetime experience lasted beyond the concert.
After the show, Popphan posted her photographs and videos from the front row experience on social media. Days later, Popphan noticed that Del Rey had shared one of her front row videos on Instagram in a multiple image post. You can hear Popphan's voice in the background singing along during the video, and the fact that Del Rey would mention her in that fashion meant the world to her. Seeing Del Rey and having one of her videos included on Del Rey's Instagram has given Popphan the fan experience of the lifetime and she will always be grateful for that.
Comments
comments