A band native to Carrollton named Eva Rose & The Bottom Line is anticipating one of Carroll County's popular music festivals Little Big Jam. This group of longtime friends has been a part of two projects together before becoming a newer, more soulful band. They will play in front of their fellow community this Friday, Sept. 29 at 10:30 p.m.
"It's always special to play for our hometown crowd," said guitarist Stephen Lee. "I'd say our hands down favorite event to play for is Little Big Jam. LBJ is the one time of year we know we will get to hang out with our friends and see them play as well as checking out acts from all over. It's really probably the coolest thing that happens in West GA every year."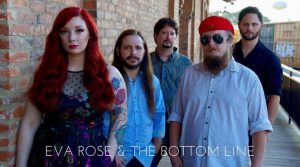 The band enjoys Little Big Jam the most because it is a homegrown festival that brings all their family and friends together. Having an audience filled with familiar faces who have encouraged them along the years makes it special. This festival lasts four days and is located in Bowdon, GA from Sept. 28-Oct. 1. Eva Rose and The Bottom Line look forward to their second year of performing at Little Big Jam and reuniting with those close to them.
"When it comes to describing our music we like to use the term soul revival," said Lee. "As a band I'd say our roots are pretty firmly set in the late 60s and 70s soul/blues/R&B vibe but we like to put a little spin on it."
Eva Rose and The Bottom Line features Eva Rose Warner on vocals, Daniel Akin on guitar and backup vocals, Kelley Warner on drums, Ed Thrower on organ and keyboard, Stephen Lee on guitar and Jonathan Dorsey on bass. Each member comes from different musical backgrounds to help mold the band into its soul revival sound. Lead singer Eva Rose Warner is a classically trained singer even though she has a bluesy grit to her voice. Kelley Warner grew up playing drums for metal bands while the other members are big blues and R&B guys. The multiple individual influences between the band mates is how they all became so cohesive in making their music. A melting pot of different genres and musical upbringings showcases their unique style.
"It's hard to say where we see our music taking us," said Lee. "Hopefully people will love it and things can really get rolling for us but we can't exactly control that. You just have to keep your head down and keep working and eventually when you look up you'll find yourself somewhere pretty amazing."
For the band, it's more about the reward of creating versus where their craft will get them in the future. They know it's a process to build their way up but they see it as a chance to grow as artists and allow the big details to work themselves out. Opportunities like performing for hometown crowds is what matters most and why they eagerly await this upcoming festival.
Comments
comments