The GreenBelt remains safe and secure thanks to the Carrollton Police Department's officers who have maintained active bike and ATV patrol.
CPD officers closely monitor the 16.3-mile trail on bikes and ATV's, taking preemptive measures that ensure the community's safety. Officers patrol the GreenBelt and its surroundings four to five days a week during daylight hours.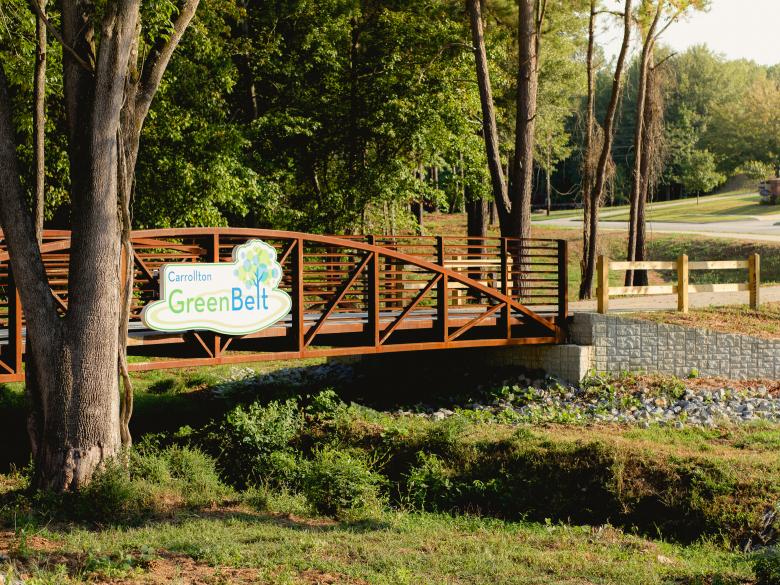 The officers then pass along any daily information in regard to the day shift to the night shift officers, who continue steady surveillance of the area. Cameras are installed at pavilions and at trailheads to maintain steady surveillance. CPD officers make well known their duties each day revolve around serving, preventing and protecting the community.
"We make multiple rounds each day and night," said Sergeant Kurt Catudal.
"We
are highly visible, and want the community to know we are out and about patrolling."
Catudal has been part of CPD since May 7, 1990. He was given the opportunity to start the bike patrol program in 1994, which to this day remains a vital patrol surveillance method for the Carrollton community. Bike and ATV patrol has allowed officers like Catudal and others to have more approachable, one-on-one contact with the Carrollton community. The GreenBelt's security has benefited greatly from bike and ATV units.
"We can see and hear things more easily than in our patrol vehicles," said Catudal.
Catudal, as well as the rest of CPD, cannot voice enough the importance of being responsible and to always use the
"buddy
system" when enjoying the GreenBelt. The overall goal in regard to safety and security for the GreenBelt is to,
"Make
sure nothing happens, and to make it as safe and pleasurable for everyone to enjoy and have good experiences," said Catudal.
Whether it's jogging, bicycling or walking, stout safety measures should always be followed in order to not put yourself in any kind of danger or uncomfortable circumstance.
"Wear bright colors, and do not have earbuds in both ears where you cannot hear your surroundings," Catudal said.
Catudal explains that one of the most important things to remember, whether it is on the GreenBelt or anywhere else, is to not put yourself out there as a potential victim. Safety measures should always be taken to get the most out of any activity on the GreenBelt.
"Always let someone know where you are, where you're going and what time you plan to be home," Catudal said.
There is extreme significance in being
"proactive"
when it comes to one's surroundings, and to always keep your phone readily available for use. CPD officers make well known the expectations of how the public should use the GreenBelt for enjoyment and exercise.
The presence of CPD's bike units and ATV's among the GreenBelt and its surroundings help preserve safety in the community. Along with a dedicated police presence, the Carrollton GreenBelt strives to maintain its safe and enjoyable reputation for many more years to come.
Comments
comments