On Feb. 17, 2018 the Graduate Assistants of the University of West Georgia will be hosting the first ever Mardi Gras 5K in Carrollton, Ga. The event will be hosted at the University of West Georgia's athletic complex next to the football field.
This race will be operated by students and staff of the University of West Georgia that wish to gain a learning experience of leadership from such an event. Once the runners arrive to the site of the race they will receive their race number, Mardi Gras beads, and a masks from the staff to help promote the Mardi Gras theme.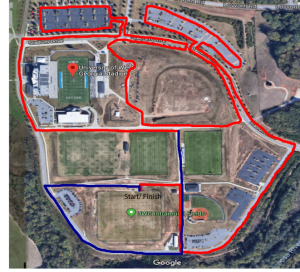 The race will consist of a series of loops that will be marked along the runner's track. The five kilometer long course will circle the runners around University Stadium, and eventually finish where the race began. Participants are encouraged to give their all and treat this as a competitive running event, but participants of all different paces are invited. After the race there will be an award ceremony for the runners that finished in their respected grouping. There will be awards for the best overall male and female, and the distribution of the other awards will be divided six age groups. The six age groups will begin at 17 and under, and they will advance to 55+.
This event is a non-profitable event for the university because they only plan to break even for this project for the sake of a healthy lifestyle amongst the community. The university wants to use this event as a way to promote a healthy lifestyle in a fun and exciting way while supplying students with an experience. Sign-ups for this race are currently available online and will continue until the day of the race.
The public is able to sign up for the race until three o'clock on Feb. 17th, and t-shirts will be for sale at the event. The university is only selling the t-shirts that have left over from patrons that signed up before Feb. 1st. It will cost thirty dollars to sign up for the race as a participant, but if someone wants to help the cause without participating, then they are encouraged to sign up as a phantom runner. Runners are also allowed to sign up as a group so that they can run together.
"We don't really want to raise any money during this event, we just want to promote a healthy lifestyle for the community," said Sarah McDaniel, project manager for the race. McDaniel and the rest of the university staff want to see a diverse crowd of West Georgia students and families from the area come together to have a good time while being active. If they can promote a healthy lifestyle to the community while supplying the staff with experience then McDaniel, and the entire staff will be content.
Comments
comments