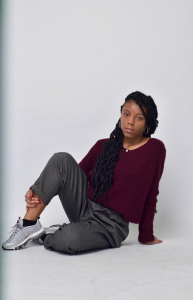 UWG student Alexis Kenon is the photographer behind the name Lexography. She is currently studying Mass Communications with a concentration in public relations. Kenon hopes to use her degree when she starts her own creative business. As a lover of art, fashion, photography and music she eventually wants to have her own creative space where she can produce amazing content.
"Eventually I want to learn how to make beats; I want to try it at least once," said Kenon. She is always looking for ways to be more creative and learn new things. Her sophomore year of college she wanted to start deejaying, but settled for creating playlists on her soundcloud.
In 2017, Kenon started taking photography more serious.
"At first it was just a hobby, something that I enjoyed doing and still enjoy doing but now I'm making it more of a business," she said. Kenon has done various photoshoots, whether it be headshots, location or in studio. She has shot for clothing brands, for blogs and for various music artist.
Kenon is now working on a photo series. This year she wants to keep networking and building her skills. This semester she is taking a photography course to keep learning more about her camera and finding innovative ways to edit her pictures.
"I want to master my camera, I've had my camera for over a year now and still feel like I need to master it some more," said Kenon.
In her free time Kenon loves to go to Atlanta and shoot in cool places. One of her favorite places to shoot is Little Five Points.
"I love love love the murals in Little Five Points, people are so freaking talented it's crazy," Kenon said.
Some of her favorite shots have been of the Inman Quarter, the West Side Provisions District, Cascades and at an abandoned warehouse in the city.
Kenon also wants to intern this summer at a creative space, preferably in another state. Her goal is to build connections and meet all types of people outside of Georgia. She hopes to shoot for Teen Vogue magazine or Harpar's Bazzar in the future.
Graduating in spring 2019, Kenon wants to her photography to take off by then so she can work for herself full-time.
"That's always been the goal, to work for myself, and right now I'm trying to make sure that happens by the time I graduate. I'm speaking that into existence," said Kenon.
Comments
comments