Veteran rapper Murs gives a deep look into his personal life, cushioned by some throwback, underground style in his latest project: A Strange Journey Into the Unimaginable.
The South Central, Los Angeles rapper has been in the game since 1996. He has released nearly two dozen recorded works since – either as a solo artist or as collaborative works with other artists. The 40-year-old is most recently signed to Tech N9ne's record label Strange Music. Murs interestingly holds the Guinness World Record for rapping for 24 hours non-stop accomplishing the feat via live stream on Oct. 13, 2016.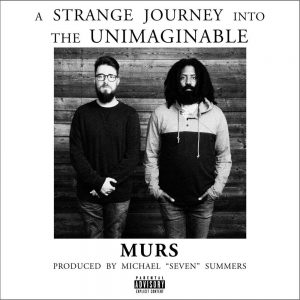 Murs has a traditionally underground sound. Listening to his music gives off the raw feel that he is an artist speaking from the heart – like a street performer calling for change or a soft poetry reading set to a beat. Murs is known for giving off a lighthearted feeling from his albums. He often calls out downfalls in hip-hop culture such as gun-violence and homophobia.
A Strange Journey Into the Unimaginable is no exception, but not before the characteristically chatty rapper explains to fans why he has been hanging low lately.
Murs has been going through a divorce and a grueling custody battle. The South Central rapper explains how it has been a painful experience in the introductory track to his new album. He continues to explain how things got worse for him in "The Unimaginable" – that when things were starting to look up, he was expecting a baby boy with his new fiancé, but his son was stillborn.
Murs makes a nice transition into the next track, "Melancholy" where he explains that he has finally got to the point in his grief where his "highs aren't too high, and lows aren't too low." Murs gives an upbeat reminder that life can be tough and full of sticky situations but that it is ok to be happy, or melancholy as he says.
These first two tracks sit apart from the rest of the album. Murs may have just needed to grieve on his album as sort of his own coping mechanism. Either way, "The Unimaginable" and "Melancholy" speak some hard truths and sheds light on some tough situations in a way that can make the listener feel better about something personal in their lives.
The remaining 12-tracks remind listeners that Murs is still coming at them with his happy, insightful, funny and progressive style. Songs like "Superhero Pool Party" and "Whisky & Patron" have fun vibes of chillin' with the homies – showing how Murs just likes to play around and have fun with the words. Sprinkled throughout the album are tracks like "Lo-Fi Nights" and "Celebrate" that give off the rappers characteristic 'feel good' vibe. Other songs like "A Lean Story" and "Same Way" tell that, even though he promotes peace and love, he will still beat up an out-of-towner if they step on his Jordan 13's.
It is unfortunate that the veteran rapper has been going through hardships these past few years. A Strange Journey Into the Unimaginable gives that light at the end of the tunnel feeling that many listeners can related to and feel good about. Murs is a master lyricist and continues to show that talent in his latest album.
Comments
comments