Music Midtown (MM) unified music lovers from all over Sept. 16-17, in Piedmont Park. The festival is a musical melting pot which heavily reflects Atlanta, one of the most diverse cities in the country. MM is two days filled with endless musical performances. The festival was first held in 1994, but experienced a six year hiatus after 2005 before reemerging with a bang in 2011. Artists from every genre travel to the city to perform as well as music lovers from all over the United States for the two-day event. Not only can attendees enjoy music at MM, but they can also indulge in the variety of food and alcohol vendors stationed around the park. This year's festival featured huge names in the industry including Bruno Mars, Future, Blink-182 and Weezer. MM also allows indie artist the platform to perform on the same stages as other well-known musical greats. Because of the plethora of musicians in attendance, the festival utilizes four stages, the Salesforce Stage, Roxxy, Cotton Club, and Honda. Performances also occur simultaneously, meaning that wherever you go in the park you can hear music.
Day One of the Salesforce Stage (SFS) featured more mainstream, signed artists. English pop singer and opening act for Bruno Mars' 24K Magic Tour, Dua Lipa, began the performances. Best known for her songs "New Rules" and "Blow", Lipa's sound can be described as a mixture of dark wave and dream pop. While Lipa has opened for such acts as Troye Sivan and Coldplay, she will be headlining her own self-titled tour beginning in October.
Following Dua Lipa, funk rock group Vintage Trouble entered the stage. VT is comprised of Ty Taylor (lead vocals), Nalle Colt (guitar), Rich Barrio Dill (Bass Guitar) and Richard Danielson (Drums). VT's nostalgic sounds is a blend of Blues, Funk, R&B, and Rock. The lead vocalist Taylor's stage presence, vocals, and mannerisms are reminiscent of James Brown. VT has opened for music legends like The Rolling Stones, AC/DC and Dixie Chicks. VT performed popular songs of theirs such as "Run Like A River" and their new single "Knock Me Out" before ending their set with a crowd surf.
Another energetic performance came from Swedish singer and songwriter ToveLo, who graced the stage after VT. The Habits (Stay High) singer captivated the audience not only with her airy vocals and electropop sound, but with performances of "Talking Body" and "Disco Tits" during which she flashes the crowd her breasts.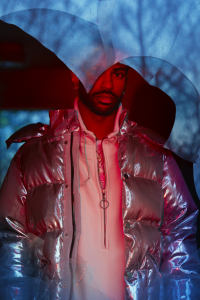 Headliner and Detroit Hip-Hop megastar, Big Sean, commanded the stage swiftly after ToveLo. Sean recently released his fifth studio album, "I Decided" and finished the European leg of the album tour. Sean entertained his eager fans who waited for hours with hits such as "Moves" and "Bounce Back" along with a few of his classic singles/features like Dance (A$$), Mercy, and I Don't' F**k With You.
Music Midtown improves each year by drawing in a bigger crowd. Dates and lineup information for Music Midtown 2018 are not yet released, but will be soon.
Comments
comments