The University of West Georgia has a new sweets shop for its students. Delights, an addition to Market Fresh Deli, opened at the beginning of the fall semester, and students are already raving about it.
"It's been well-received by everybody that has tried it that I have talked to," said Sherri Shelnutt, Auxiliary Services' Coordinator of Marketing and Communications.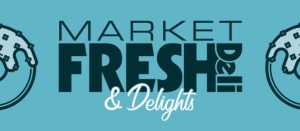 Dine West was formed last year after UWG ended their contract with Aramark, the former dining service provider on the campus. However, it seems that Dine West is becoming a success all on its own.
"We're very proud of the food on campus," said John Lyons, Director of Campus Dining. "We're focused on people and focused on food, so that access to really good, nutritious food is not a barrier for students."
Delights is a shop focused on selling desserts, as well as healthy options, for students. In fact, the idea of it came from students.
"Really it came out of student surveys and focus groups," said Shelnutt. "We had focus group meetings and also taste tests for different avenues of what we could put to bring variety into the dining program."
With this is mind, the Dine West team had the idea and the location ready to go.
The shop sells many sweet treats, from ice-cream, to smoothies, to donuts. Delights also has a few limited time offers, such as lemon bars and apple pies. And a bonus, they can all be topped with a scoop of ice cream. However, Dine West is sure to cater to all dietary needs by offering vegan and gluten free options.
"It was very important that we didn't just make it a sweets shop, that's why it's called Delights," said Lyons. "We have gluten free treats, healthy treats, fresh fruit, and smoothies."
Delights also sells dried fruit and trail mix, among many other healthy items.
"One of the key things that we learned from the surveys was variety, in general," said Lyons. "Variety of healthy options, variety of vegan options, and we listen to those things, so we made adjustments."
After student feedback, one of Dine West's top priorities is variety. They want as much variety for the students as possible.
"On the surveys, one of the things on the top five items that students wanted in the Delights was milkshakes," said Shelnutt. "But we decided not to do milkshakes, and do smoothies, because milkshakes are already downstairs in Chick-Fil-A."
Lyons gages success differently than many other company directors would. He measures success not in terms of how much more money they make with Delights, but whether more people visit Delights, compared to when Market Fresh was just a two-sided deli.
"It might not be the same amount of money, because a sandwich is more expensive than a donut," said Lyons. "But if more people come to Delights, then I would say it would be successful."
Lyons takes on what success means for Delights is an approach that is likely to motivate the Dine West team, as the shop has become very popular in its prime months.
"My idea of success is that we are adding something that the students had asked for," said Shelnutt. "So to me, that's a success, whether or not it takes off money-wise."
With all the positive feedback from West Georgia's students, Delights is sure to be an even bigger hit on campus as the semester goes on. The shop is open Monday through Friday, from 10:00 a.m. to 5:00 p.m.
Comments
comments