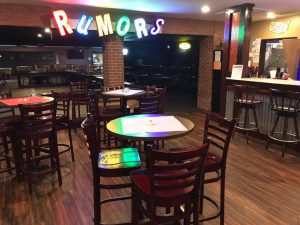 When most UWG students think about a night out there is only one place that comes to mind, 'The Square' – Drid Harper, owner of TC Rose, is giving them more to think about.
TC Rose has been a staple in the community for locals since the early 1990's. Former owner Rickey Collins built the dive bar's reputation with his 40+ years of experience in the industry. However, on Jan 1, 2017 Harper bought the building and the name to keep the legacy going after Collins announced his retirement. Since then, Harper has been rebranding its name, has moved back to the original location and brought a more young, lively vibe to the scene making it a more college-friendly environment – in which he is succeeding.
Harper has not always been the successful man he is known as today. As the result of some lackluster decisions, he served a 5-year prison sentence that which he claims changed his life for the better. Upon release, Harper made some sound business decisions. He became the owner of West Ga. Marine, a boat dealership based out of Roopville, GA. Once he discovered Collins retirement announcement he sold West Ga. Marine and closed shop immediately in order to pursue ownership of TC Rose.
Harper's passion for TC Rose extends past his desire of entrepreneurial interests as a local business man.
"There around a lot of people around here who love the place," said Harper. "I wanted to buy the bar as soon as I found out it was shutting down. I met my wife at TC Rose, and I used to work here as a bouncer in the 90's – becoming the owner was a personal dream of mine."
Quite a few improvements have been made since Harper's acquisition. He immediately went to work taking steps to move the local business back to its original location at 202 Brumbelow Rd. Renovations and the move where completed and TC Rose reopened at this location in July 2017. Current UWG students may remember this location as the Hungry Wolf.
"It's a much nicer facility," said Harper.
TC Rose is open from Tuesday through Sunday from 12 p.m. to 2 a.m. They host pool tournaments every Tuesday, acoustic shows every Wednesday, Karaoke every Thursday and feature a live band every Friday and Saturday. The student-to-local ratio has become a good mix for students who are looking for a change-up in their after-hours experiences in Carrollton. Harper's changes as the new owner has made TC Rose an attractive place for the middle-aged crowd that it has always catered to, and for college students alike.
"I spoke with one of the bands the other night," said Harper. "They told me that they have never been to a venue where they have seen people from 21-years old to 65-years old wearing everything from camouflage, shorts or tuxedos all at the same time. That's what we want. We want to keep a good mixture."
TC Rose is the only venue in Carrollton that features live music every week and is one of the few places to play billiards.
Dive bar culture is becoming a dying breed but is an atmosphere still enjoyed by many. Harper hopes to keep that culture alive and well in the community. He can be found maintaining the facility early in the morning or overseeing the action late at night. Harper is a true American businessman and the epitome of the phrase 'pulling yourself up from your bootstraps.' His hard work is proving to be beneficial to all of Carrollton's demographics.
Photo Courtesy: TC Rose
Comments
comments