The University of West Georgia provides students with several job opportunities on campus that work best with their class schedule so they are able to manage both work and school. These part time jobs/internships allow students to work up to 20 hours a week with an average pay of $8 an hour depending on the job position. Most of these on campus jobs require assistance in Human Resources, Financial Aid, the Bursar's office, and Information Technology Services. Other jobs may include working for the Dine West program such as Chick-fil-A located in the UCC on campus.
The main concern students seem to have about working while off at school is time management. "It's hard to maintain a job off campus due to my class schedule," said Amanda Basak. "This job is convenient for me because the university automatically works with my class schedule. They are obligated to work with me." Basak is an operation assistant at the Coliseum and has worked in this department for the past year.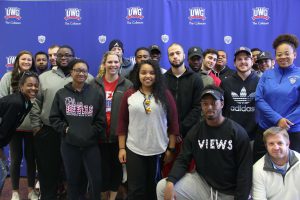 Others students may want a job that pertains to their major and prefer to look into other credible sources. "I was informed about the position in Customer Relations through Wolf Works and Auxiliary Services," said Wesley Hammonds, UWG student. "I found out about the marketing internship through Career Services." Hammonds was interested in a job that included different tasks varying from day to day. Both Customer Relations and the marketing internship have allowed Hammonds to perform tasks such as putting up posters around campus, gathering specific data, recording observations, and administering observations.
"Working on campus is convenient for me," said Hammonds. "I stay busy with on campus events so I need a job that is flexible with my personal schedule as well as my class schedule."
Many students may want a job on campus but are unsure how to go about signing up for one. "I learned about this job through Instagram and my peers," said Basak. Basak was interested in learning how to set up and break down events on campus including basketball, volleyball, cheerleading competitions, CSI concerts, and other events off campus.
Students taking summer classes have the opportunity to keep their jobs on campus. Basak and Hammonds have taken it upon themselves to work some during the summer months and winter breaks. Both UWG students claim that the connections they have made working on campus have been worth it. "All of the professional staff help me in developing myself for a career after graduation," said Basak. "They want us to succeed so they are constantly helping us better ourselves for the future."
These job opportunities are convenient and are available to any student hoping to maintain a steady paycheck while attending classes on campus. The University of West Georgia has the students' best interests in mind and is willing to work with the most complicated class schedules.
Comments
comments