The development of skills and knowledge in regards to professional relationships and etiquette are important for students as they prepare for their futures. UWG's annual Etiquette Dinner is an excellent resource for those seeking to learn these skills.
"This
is a Career Services event that is sponsored by Enterprise Holdings Inc., one of our premier employer partners," said Iteeah Pounds, UWG Career Services recruitment specialist.
"The
Etiquette Dinner educates students on the importance of table etiquette so they are prepared when they are invited to business dinners. It also gives students an opportunity to enhance their networking skills which is an important skill to have as they begin to move forward in their careers."
This is an annual event and costs $10 to attend. It enables students to make connections and learn skills that students might not otherwise have. Although the dinner only occurs in the fall semester, Career Services is looking to expand the dinner to the spring calendar in the near future.
"This
event was recreated from previous years," said Pounds.
"We
saw how it was a benefit to our students and it also gives employers an opportunity to connect with students in a different environment."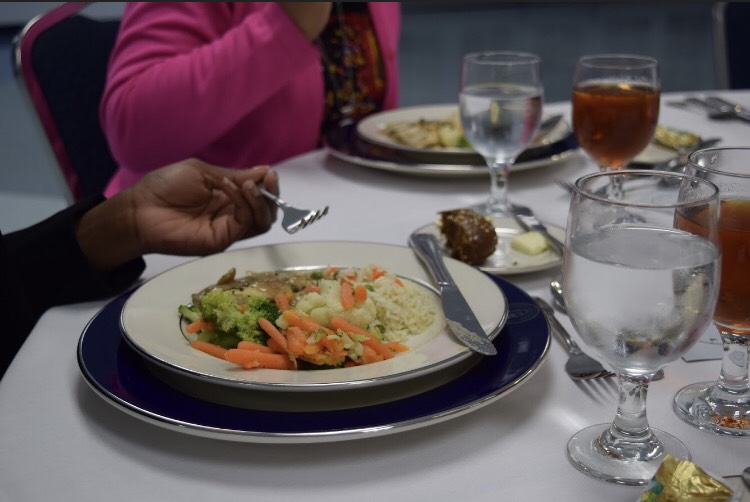 for appropriate table settings and learn about dinner etiquette from different cultures which can be crucial in business engagements when in other countries or a career that includes travel.
Students will learn proper use of utensils and the appropriate time to use them. Attendees will also receive a dining roadmap
"Not
only is this a great learning experience, but the presenter, Dr. Angelyn Hayes, does a great job of making students feel comfortable by adding a little humor," said Pounds.
"Humor
always makes things more enjoyable."
Dine West also serves a four course meal with soup and salad, an entree and then dessert. Beverage options include water, ice tea and coffee with dessert. There are also alternate options for those who have food restrictions or allergies.
"The
dress is business professional," said Pounds.
"We
want students to have the whole experience that will go along with a business dinner."
Career Services staff, representatives from their sponsor Enterprise Holdings Inc. and their other employer partners all attend the event so that students can also network.
The UWG Career Services gives students this opportunity to attain skills and make connections, all while participating in a four course meal.
Comments
comments