With a collegiate national championship in 2009, two WNBA championships in 2015 and 2017, and an illustrious decade-long professional career under her belt, Renee Montgomery of the Atlanta Dream is one of the exemplary models of success in the game of basketball.
Montgomery is the starting point guard for the Atlanta Dream, whose season ended last Tuesday after losing a winner-take-all game in the WNBA Semifinals against the Washington Mystics. She played collegiately at UCONN from 2005-2009, a full-time starter in each of her four years under the legendary Geno Auriemma.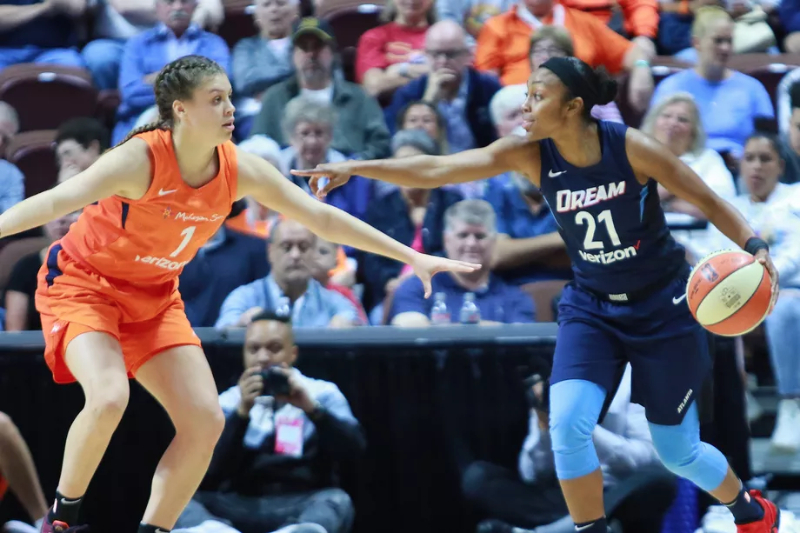 This season with Atlanta, Montgomery averaged 10.3 points per game on 37% shooting on three-pointers. She finished her collegiate career in the top ten in many areas of the legendary UCONN women's basketball record books: including No. 1 in games played
(150),
No. 6 in career points
(1,990),
No. 6 in field goals
(703),
No. 4 in three-point field goals
(254),
No. 9 in free throws
(330),
No. 3 in assists
(632),
and No. 5 in steals
(266).
She was also the first Husky to be recognized in the
"Huskies
of Honor" while still playing in an UCONN uniform.
"It's probably different from what people think. I enjoyed playing for him, I liked the brutal honesty," said Montgomery about playing for Geno Auriemma.
"They're
the reason that I know how to play the game the right way. They break everything down, they teach you how to read plays, read screens, read defenders, so I basically owe my pro career to them because they gave me the fundamentals and the foundation to excel at the next level."
Montgomery was the 4th overall pick of the 2009 WNBA Draft by the Minnesota Lynx, with whom she would win two championships with. She also spent five years with the Connecticut Sun and half a season with the Seattle Storm before signing with the Atlanta Dream last offseason.
Montgomery also spent time from 2009-2010 as a color commentator for ESPN working women's collegiate basketball games. ESPN has continually done great work in allowing current and former WNBA players to continue their basketball careers off the court, as Montgomery was able to do and more recently what Chiney Ogwumike of the Connecticut Sun is doing right now.
"It was interesting, it was a whole other way for me to look at the game," said Montgomery.
"As
I watch game film of myself I'm critiquing myself in a certain way, but as you're commentating you start to look at the game as a whole and as a point guard that's what I do on the court already. So it actually came a bit natural to me in a sense of that's how I survey the game."
Montgomery has also done what many WNBA players commonly do, playing overseas during WNBA off-seasons. She has played for in Israel, Russia, Australia, Lithuania and Poland over the years.
"The WNBA season is just for the summer, so then we have a big 6-7 month off-season and that's when the overseas season occurs," said Montgomery.
"It's
a great way to make extra money. As everyone knows we don't make millions like the men, so it's a way to basically make two incomes in one year."
In correlation with this, the discrepancy in pay, opportunity, and visibility between the WNBA and the NBA has caused many fans of the game to assume that the relationship between the players of both sides is a tarnished one. However, that has been proven to be far from the case; in fact it is the complete opposite.
"They think it's a rivalry but a lot of my friends play in the NBA, I don't have a particular favorite NBA team but if one of my friends are playing then that's who I'm cheering for," said Montgomery.
"I
went to school with a lot of the UCONN guys that play in the NBA. Also the Big East is small so guys like Kyle Lowry, who played for Villanova, I know them through that and then even going back to the McDonald's All American Game there were players like Gerald Green and Mario Chalmers who we hung out with andbecame friends with then. So it's definitely not a rivalry, it's actually more of a mutual respect between both parties."
The WNBA is continually putting in efforts to make their games more easily viewable to fans of the game. One of the more recent upbringings took place a year ago, when Twitter signed a deal to begin streaming regular season WNBA games through the app. However, in order for the WNBA to break its barriers and take the next step, people simply need to give it a chance.
"The main thing is just getting people to watch it. Maybe there's a stigma around it and maybe people just don't wanna watch it, but a lot of times when people watch it they actually say they are pleasantly surprised," said Montgomery.
"That's
why I love the Twitter deal because there are games that are showing on Twitter. Some fans might not have access to games, but with Twitter it's easily accessible so people might click it and I think if people click it and watch that they'll end up watching again."
As the WNBA and other professional women's sports become more and more popular, the importance of young girls and women having access to sports and being able to play sports at a young age is crucial. According to womenssportsfoundation.org girls drop out of sports by age 14 at twice the rate that boys do, primarily due to a lack of access and opportunity.
"I think it's great that at a young age they have the WNBA to look up to and they also have coaches that are dedicated and working," said Montgomery.
"You
start to fall in love with things at a young age so to create a good habit and be on a team is very important because you want people to fall in love with good and active things and not have bad habits. So to have access at a young age is so crucial because you start learning good habits young."
Comments
comments