College life changed drastically in March of 2020 due to the coronavirus pandemic, but most students hoped life would return to normal come the fall semester. College athletes have had some of the hardest times because their seasons have either been restricted or nonexistent to comply with COVID-19 guidelines. Senior year was certainly different for volleyball player Hannah Flack, but she is getting another chance to play this spring and looking forward to the season.
Hannah has played volleyball at the University of West Georgia for three seasons since the fall of 2018 as primarily a right-side hitter. Prior to playing for UWG, she played at Shorter University in Rome, Georgia and all throughout high school. Her decision to play at UWG was not difficult to say the least.
"I have always enjoyed playing sports and getting the opportunity to play in college has been a gift," said Hannah. "I decided to play volleyball in college because I would get to continue playing volleyball while getting my college education paid for."
What Hannah couldn't anticipate was that her senior season would be delayed due to a pandemic. Because of this, the season was pushed back until this spring and has been shortened compared to the regular length of previous seasons. This shortening is to allow for some game time for the athletes instead of none at all. Though Hannah still misses how long the seasons were prior to the pandemic.
"It has been extremely strange [not playing]," said Hannah. "I have missed the comradery with my team and being able to release stress and exercise by playing volleyball every day."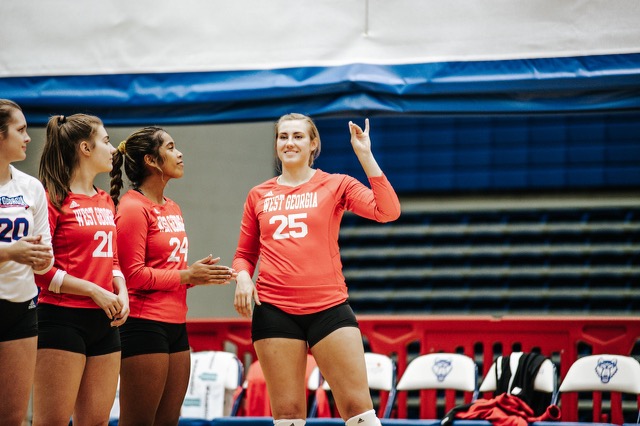 UWG has made it a top priority to take care of their athletes, implementing many new procedures. Athletes are now required to wear masks at all times, even when weightlifting. Also, there is mandatory surveillance testing and covid testing that occur three times a week for all volleyball players due to the rapidly approaching season. With the precautions, Hannah feels her safety is of the greatest importance.
"I feel safe with the precautions in place to play volleyball," said Hannah. "Our coaches and athletic training staff are very proactive and cautious involving COVID safety measures."
The shortened season starts at the end of February and only has seven games on the books compared to the season before the pandemic which consisted of 33 games. Many other universities have chosen to opt out of the season entirely, so any season at all is something Hannah is glad for.
"I'm thankful that we are able to still play some semblance of a season this year," said Hannah. "Having the season moved back a semester has allowed for more preparation and I'd rather have a reduced game schedule than no schedule at all."
Even with the shortened season, the team has been practicing in order to get the most out their time competing. With only seven games, Hannah wants to enjoy what she can since this will be her last season. Her hopes are that the team is successful and able to play the entirety of the season without anyone contracting COVID-19.
"It is definitely going to be different from past seasons I have participated in, but I believe that it will be a successful and enjoyable season despite all the hurdles," said Hannah.
Comments
comments