Following the vacancy of head coaching position for UWG's women's soccer team, Stacey Balaam was announced this past spring that she would be filling that role after previously coaching at the University of North Georgia for six years. Coming off of a team that entered the NCAA tournament five times during her experience, Balaam looks to incorporate that same success with the Lady Wolves.
"My experience at UWG has been great so far," said Balaam. "Everyone on campus and around the athletic department couldn't have been any more welcoming and accommodating."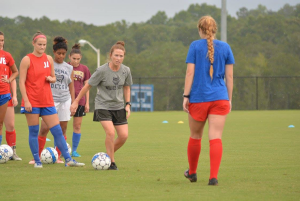 As an England native, Balaam's love for soccer started at a very young age. She grew up playing for a boy's team in the early 90s, which transpired into her playing for a women's team at only 16 years old. She accepted a soccer scholarship to the University of Montevallo in Alabama opening doors to her soccer career. Balaam played a season of professional soccer in Iceland before given the opportunity to come back to the University of Montevallo and become a full-time collegiate soccer coach. After coaching two years at her alma mater, she joined the University of North Georgia as an assistant coach for six years. Five out of the six seasons Balaam coached at University of North Georgia, the Nighthawks were nationally ranked and competed every year in the conference tournament. With such achievements on her resume, she is motivated to build a strong force at UWG.
"I would say there is mutual respect between myself and the players," said Balaam. "They know I can be intense but approachable at the same time."
Balaam's coaching style is getting her and the team focused and prepared for the upcoming season. She strives to pull the very best out of her players in every aspect. She pushes the team to compete competitively while growing a bond between one another. It is an important factor as a coach for Balaam that the players recognize her intensity as compassion. She is looking forward to creating well-rounded and adaptable players.
"I hope the players stay cohesive throughout the season and we remain a close family," said Balaam.
With the roster featuring 15 new faces this season, Balaam knows new adjustments are necessary to team building. Throughout the practices and scrimmages, she notices the players growing familiarity with each other. Starting off the 2017 season against her previous team, the Wolves played a hard fought game falling to UNG in double overtime. Balaam knew the 13th ranked Nighthawks wouldn't be an easy matchup but her team never gave up pushing the game into extra minutes. This was momentous for coach Balaam because of her portrayal as a head coach to her past team and recognizing such a competitive group of girls to battle the rest of the season with.
Comments
comments