Student Government Association Emphasizes Student Safety with Safety Night Walk
The time of the year is approaching where UWG hosts its annual Safety Night Walk. UWG is always trying to incorporate different programs to help students on campus feel safe and protected at all times. One of the annual events that is hosted every year is the Safety Night Walk.
The Student Government Association (SGA) hosts this event as a way to ensure safety on campus.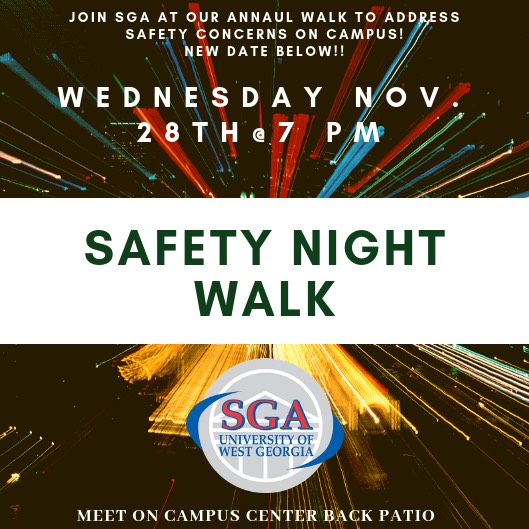 "Our annual Safety Night Walk is all about making sure students feel safe on this campus," said Rebekah Brinkley, Vice President of Student Life. "Basically, we split off into two teams and walk around campus."
Brinkley makes a map of the walk beforehand which serves as a guide as to what places on campus pose a possible safety concern.
"This year's map focuses more on residence halls while last year's looked at the Quad and UCC area," said Brinkley. "It's all about looking at the places we see students hanging out a lot that might pose safety concerns for them."
Along with the detailed map, Brinkley also writes a report that discusses the areas on campus that garner the most concern.
"I write a report with pictures and descriptions of areas people had concerns about, and that report is sent to the various campus departments that might be able to do something about it," said Brinkley. "We also discuss it at our SGA meeting and send the report to my committee to look over and propose what changes we try to push for." 
SGA encourages students to come to this event not only for them to learn about safety on campus, but also so that they can express their concerns and feel as though their voices are being heard.
"Our biggest go with this event is just making sure that students know SGA hears their concerns and will try to make a difference for them," said Brinkley. "We want students to know that they can come to us with anything and we'll try our best to address it. Students should always feel welcome and safe on campus and we want to continue to make that happen.
"To me, safety on campus means feeling welcomed and unthreatened during everyday activities such as walking to class, hanging out on campus or driving through the parking lot at night," continued Brinkley. "Students should definitely come to this event so we can know what's going on on campus, if they have safety concerns we want to know. Even if they don't, they can help us find areas that people might not be aware of."
Students that attend the annual Safety Walk also get a chance to interact with members of SGA.
"Students can also just come and hang out. Walking around campus is a great way for students to get to know SGA members and talk about UWG together," said Brinkley.
Along with SGA, the UWG Police Department has also been incorporating ways to ensure that the student population is safe. One of the ways is through their new app called LiveSafe.
"I know that the UWG police are really focusing on campus safety right now through their LiveSafe app," said Brinkley. "It's a great feature for students. ResSTAR and UPD are great assets to students in terms of safety as well. Both of them are available 24/7 to assist students."
It is important that UWG hosts events like this as they foster environments for students to express how they feel. The Safety Walk is a great way to start the discussion on how people can change their perceptions.
"I think the biggest thing about campus safety is just making sure you're doing your part. If you notice something, say something," said Brinkley. "No matter how small or how big the safety concern might be, it's important to let someone know."
Comments
comments