The 28th annual Taste of Carrollton event was hosted Sept. 12 on Adamson square, where many local restaurants and food trucks offered small servings of their best-selling dishes. The Taste of Carrollton is a great marketing opportunity for many businesses in Carrollton. Every food vendor is given the opportunity to show off their tasty recipes, and what makes their food the best. Tickets to purchase food were very reasonably priced, each ticket being only a dollar, and all food at the event being three tickets or less.
Each year the Taste of Carrollton has awards for winners for best restaurant on the square, including Restaurant of the Year, Best Restaurant Around Town and Favorite Food Truck. Four community members are chosen to taste small servings from each vendor to judge. When chosen, the vendor is awarded a plaque to place within their business. "Our pork carnitas were voted best in town," said Michael Perkins, Director of the Mustard Seed Café. "It is a lot of work to prepare food for this event, but in the end, it is very rewarding."
The Mustard Seed Café, which is located inside of City Station, has participated in the Taste of Carrollton for two years now. Fish tacos have been the most popular item at the Cafe, but the restaurant offers a variety of items on their menu and they have daily specials. This year at The Taste of Carrollton, Mustard Seed offered pork carnitas, homemade chips and chipotle turkey sandwiches.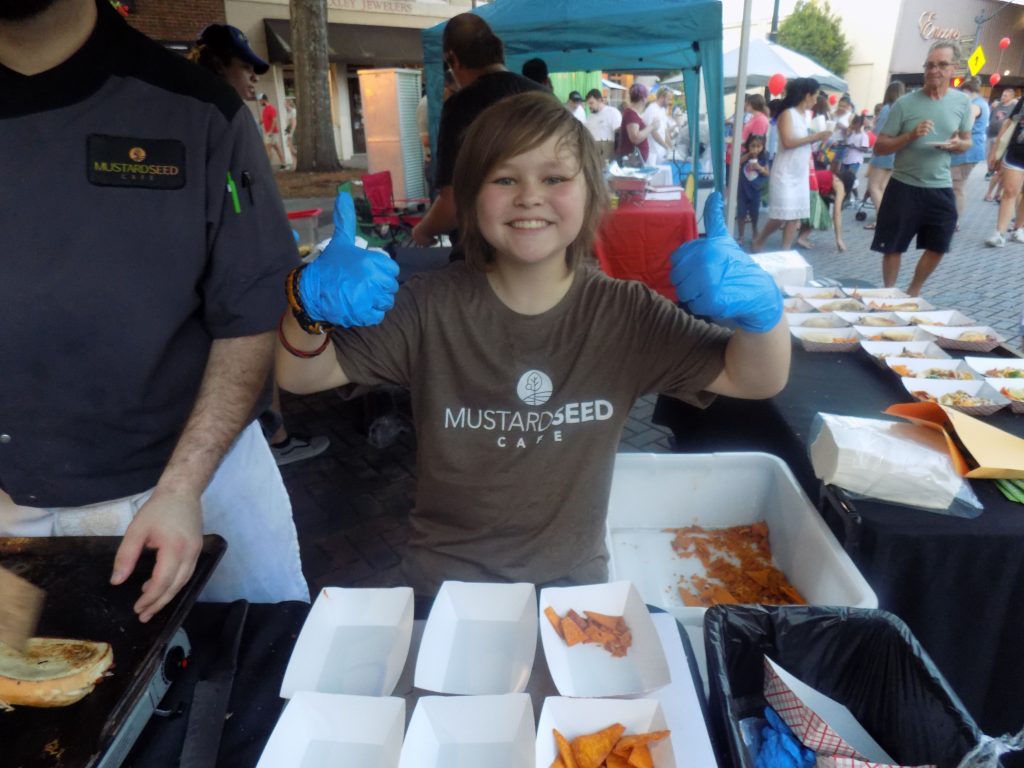 A child serves food to passerby. Photo Credit: Katelynn Johnson
Butter'dudder, a newly opened dessert business on the square, offered samples of their homemade ice cream at the event. They are known for making all of their ice cream in the house, and offering baked goods along with coffee. "I was so excited to hear Butter'dudder was coming to Carrollton," said Chelsea Church, an event participant. "Their ice cream is absolutely delicious!"
Printer's Ale was the local beer vendor who offered many beer options for purchasing at the event. Printer's Ale brewery is located on Columbia Drive in Carrollton, GA, and has been open to the public since 2017. Printer's Ale is the only brewery in Carrollton and is very popular in the community, many businesses support them by purchasing their beer to resale to customers. "Printers Ale offers many beer selections," said Blake Souvergns, an event attendee. "They have a beer for everyone."
Food Trucks were located on Alabama Street during the event. Tropical Smoothie was offering samples of their best-selling drinks from their food truck this year. Blue Nomad, 302 South Street, and O'Charleys were also food truck participants. The Taste of Carrollton is a fun event that brings the community together by encouraging friendly competition between all local restaurants. It is also a great way for restaurants to introduce themselves and their food persona to Carrollton. "I believe Taste of Carrollton is a great idea, and every food business should consider participating," said Church. "It gets better every year."
Comments
comments