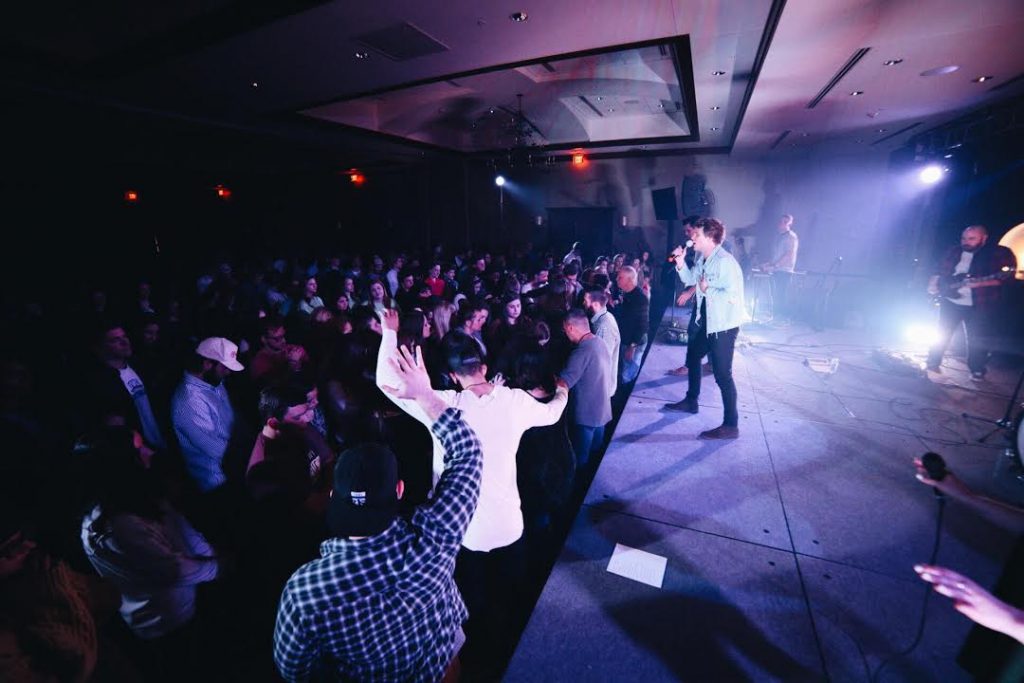 Starting in 2012, two courageous men used their creativity and unique ideas to create an event that would provide millennials the opportunity to engage in an activity that would serve as the "alternative" for what the world has to offer. One idea led to another and after staying up all night planning a fresh and brand new idea, Caleb Stanley and Austin Dennis came up with an organization called The Alternative, an event that would be held once a month.  
"We all need hope and we all need community. We have all been given a dream to do something that is bigger than ourselves and we need people around us that are going to push us toward courage, so that is when we came up with The Alternative," said Caleb Stanley, co-founder of The Alternative and former student at UWG.
From the early stages to now, The Alternative has developed significantly through the years. When The Alternative was first created, it was held at various churches or with different organizations, but now the main goal is to hold the events at The Newnan Centre so that it holds no affiliations and will gain an even larger crowd.
"When we started this year we agreed that even though it would be easier and much more affordable, we are not going to meet in churches this season," said Stanley. "We are going to find public property that is not associated with organizations and meet on those places so that anybody can come because if you stay in one church for too long everyone thinks you are just that church's ministry or just with that organization."
The events consist of worship, spoken words, and different forms of creative elements to convey the message of the night. At one particular event The Alternative team came up with a theme called "New Season," which was based around the different seasons in one's life. The team created a prayer room that was decorated with maps and other creative designs that went along with the theme of the different seasons going on in the world and how they relate to individuals. Because the events are only held once a month, the team is able to lead a successful service by putting all of their energy into each event.
"The monthly event is a service centered around who Jesus is and we portray that message through music, a message or a film," said Stanley. "It is like a big Easter service every month. We give everything we have and base it around what we can do to reach people who the churches are not reaching."
The Alternative team strictly holds onto faith to get them through their needs to successfully carry on and look forward to the rewards of the outcome and lives that are being changed.
"We definitely operate by faith. For example, the Newnan Centre is $2,500 to rent and I said, 'If this doesn't get covered then I will be selling my car,' but God comes through and now we are here," said Stanley. "I think when you step out and go for something, people want to be apart of it and take risks with you. Courage is contagious and it makes the reward even bigger."
The "why" behind The Alternative and the mission statement of awakening dreams, uniting community and amplifying hope is what keeps it prosperous.
"What keeps me going is constantly reminding myself of why we started, which was so we could be a part of something that is bigger than ourselves and to give people hope," said Stanley. "Everyday people are hurting and broken, especially millennials. I am a dreamer and I am a missionary so there is something in me that has always loved to go against the odds and dream big and do this to see other people's dreams come alive."
To further advance in their mission, The Alternative's next monthly event will be held at The Newnan Centre on April 14, 2017. The Alternative way of life begins now.
Comments
comments