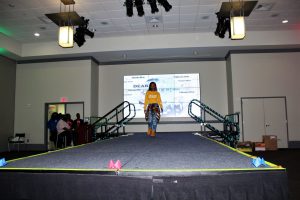 The Black Project held their second event of the series on Feb. 7. The Black Educated and talented Exposition (BEAT Expo.) was hosted by Models and Business (MAB). This event featured guest speakers, Keith Crawford and Kristie Crumbrely, a vendor showcase, networking opportunities, and a 1990s themed fashion show.
"This event was created to show black educated and talented individuals, show business owners in different lights, exalterate talent that goes into our culture that goes unforseen, and to build their network," said Keith Crawford, former MAB president and pioneer of the Black Project.
The first half the event offered students an opportunity to network with or purchase from a variety of vendors and entrepreneurs. About 10-15 vendors were represented. Many of them were UWG students. Briana Brown, founder of "Snatched by Bri" is a current UWG student majoring in Mass Communications. She sales meal prepping and weight loss guides to help others meet fitness goals. Kendalyn Watkins, founder of the "The K Effect," is a current UWG Student majoring in business management and marketing. She is a makeup artist that also sales mink eyelashes.
"Everything about this event is providing black business people an opportunity to network and market their stuff and give students an opportunity to see who is doing what and how to get involved," said Michael Lewis, vice president of MAB and Black Project committee member.
The second half of the event began with the fashion show. It stuck with the 1990s event by showcasing attire that was popular in the 1990s. Five designers were represented in the fashion show. The designers also showcased and sold their designs as vendors. Gabrielle Symone founder of "Regal Hues," is a UWG alumni and former MAB member. She was among the group of designers. Through her designs, she seeks to empower people of color by teaching them to embrace natural beauty.
The event concluded with guest speakers Keith Crawford, Co-Founder of The Young Executives, and Kristie Crumbley, founder of MAB. These motivational speakers, provided several tips for student entrepreneurs.
"I was invited to come and be a guest speaker to talk about being your own business owner and having a brand. More specifically about being an impactful business owner and brand. What I mean by impactful is touching lives for the bettering of other people and helping people out, providing tips on networking, branding, educating yourself and energy," said Crawford.
The second annual BEAT Expo. continued to highlight many entrepreneurs that inspired students and promoted networking. It successfully contributed to the Black Project by showcasing the unforeseen students that contribute to the UWG community.
The next event in the Black Project series of events is Showtime at the Apollo with a 2000s theme. This event is a celebration of black talent and how black culture has impacted a lot of artist, singers, dancers, and poets. It takes place on Feb. 22 at 7:15 p.m. in the Campus Center Ballroom.
Comments
comments