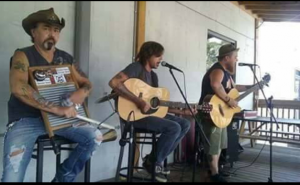 An up-and-coming band from the West Georgia area known as The Broken Glass Street Band is taking some time off from their local performances to focus on their first album Broken Glass.
The Broken Glass Street Band is a four man band from Villa Rica that consists of Denny Burns, his son Shane Burns, "Sloppy" and Landon Carter. They frequently play their unique style of music at venues and on the streets for bypassing public to enjoy. However, their local activity has diminished over the past months due to their dedicate work to their first album with the help of Carrollton's Pippin Studios.
The Broken Glass Street Band uses multiple unordinary instruments in order to make their music unique such as guitars, banjos, spoons, washboards and tambourines on their tapping feet to create their music. They want their delightfully uncommon sound that comes from their coordinated performances to create its own genre.
"We want to create a homemade sound in our music, something that you would hear your 'great grandparents' playing," said eldest member Denny Burns. "I would say that our music is a combination of bluegrass and punk; I'd call it 'newgrass.'"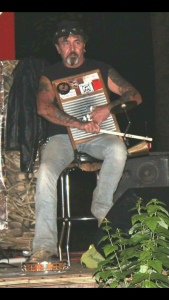 This genre that they have created derives from the band's versatility in music. Combined with their passion for bluegrass, three of their members were previously involved with punk rock music. Shane Burns and Landon Carter were all involved in a band that they created called Paradox. Paradox was a punk rock band they created in high school that performed at small venues and school concerts, but their passion for music has surpassed their time in public schooling.
The three young punk rockers joined Denny Burns to create The Broken Glass Streetband, and now the band is looking to grow. They have played in multiple cities throughout the Southeast including Atlanta, Birmingham and Chattanooga.
The band plans to have their album finished by June. They want to stay local, but they will refrain from long distance concerts for the next couple of months while they work on their project. The band will remain in the Carrollton area performing at local venues and city sidewalks performing their music for the public to enjoy.
Comments
comments