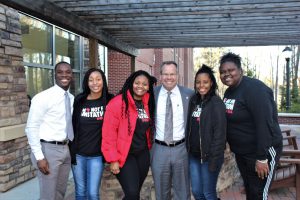 The Latino Cultural Society at UWG teamed up with a number of organizations to host a large cook-off on March 8.
The Cook-Off was more than a friendly competition, it was an event that brought together people from all over campus. Black Student Alliance (BSA), Student Government Association, Latino Cultural Society (LCS) and Lambda Theta Phi, Latin Fraternity Inc.(Lambda), cooked food that was judged by UWG president, Dr. Marrero. With support of the Carrollton Police Department and music played by the WOLF Internet Radio, students came together for food and a good time.
"I wanted to bring a lot of organizations on campus together and in my opinion there's no better way to do that than through food," said Kimberly Marroquin, President of LCS.
This event exceeded Marroquin's expectations by having such a great turnout and eager student involvement since this was the first time that LCS has hosted an event like the Cook-Off. Each organization that participated cooked something different.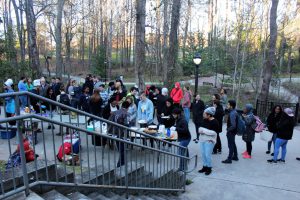 BSA cooked cornbread, barbeque chicken wings and ribs. LCS made grilled corn and stuffed peppers. SGA cooked two different types of burgers and Lambda made desserts. After tasting each dish, President Marrero determined BSA to be the winner of the Cook-off and presented them with a certificate of achievement.
"I wanted it to be people coming together, enjoying the food and the music," said Marroquin.
Though Marroquin had no intention of the cook-off being an actual competition the organizations, President Marrero, and the Carrollton Police Department were eager to participate. By collaborating with other organizations, LCS created a bonding experience with a friendly atmosphere that was all about enjoyment.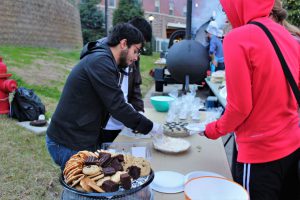 "My intention was to bring a lot of diverse students together, but my personal agenda is to create a lot of events on campus that do provide free food," said Marroquin. "I went to a meeting earlier last semester and we were given school statistics on students and there's actually a lot of students that don't really eat so it's been my personal mission since then to have as many events that have free food as possible."
With hopes of making this an ongoing event, LCS will be hosting a spring fiesta in hopes of bringing more people together with food and music. These organizations continue to embrace individuality, welcome diversity and strives to educate the community.
Comments
comments