UWG football's quest for perfection is still contemporary after their 27-25 win over West Alabama. Nearly 3,700 people filled up University Stadium in a white-out themed Homecoming game for the Wolves and were presented with the Wolves' closest game of the season.
"Great to be 8-0" said head football coach David Dean. "Great win against a very good football team. We knew they were gonna come in here and give us everything they had. Their backs were against the wall playing for a chance at the playoffs."
The only time the game was not within one possession was when UWG led 17-7 early in the third quarter. The team trailed 7-0 after the first possession of the game, but they immediately responded with a touchdown catch from Malik Henry and a scoring run from Devontae Jackson to make it 14-7 at halftime. As both teams continued to trade touchdowns in the second half West Alabama had the lead cut to within two points twice in the fourth quarter; but the Wolves held on.
"Every time we made a big play something happened or got called back and our kids REFUSED," as Dean began emphatically pounding his fist on the table. "ABSOLUTELY REFUSED to lose that football game and I cannot tell you how proud I am of those guys and the way they fought. They were not gonna let that be taken away from them, they were not gonna let West Alabama come in here and win on homecoming."
West Alabama kicker Jordan Bennett missed the point-after on two consecutive touchdowns that left the score with UWG leading 20-19 with 8:47 left in the fourth quarter when they should have been trailing by one. Dean's offense fully capitalized on their opponent's misfortunes and pulled off a crucial 12-play drive that took the clock down to 3:06 and ended with a Christian Royalston touchdown.
"I thought everybody on the offense stepped up their game on that last drive to put us up 27-19," said Dean. "Willie Candler made some great throws, our line blocked as well as they had the entire game, but more importantly they opened up the run game. We put it on their back and they responded."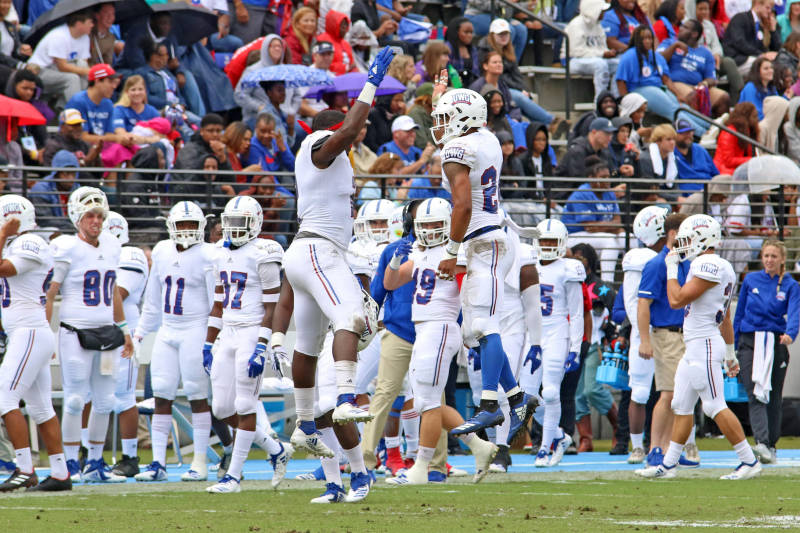 The following drive West Alabama would score another touchdown, and inevitably had to go for the two-point conversion to try and tie the game with 1:08 left. UWA came out in a formation that had scored them their first touchdown, in which they would keep all 11 players tight in the box then motion to a different look.
The play they ran would be a lob throw to their big tight end, who was being covered by Tyler Jack. The first attempt resulted in a penalty, and UWA came out and ran the exact same formation, motion and throw they had just attempted. This time Jack was able to break up the pass and maintain the 27-25 final score.
"I expected him to go back shoulder and try to use his his body, but we grabbed each other and I made a play on the ball," said Jack.
UWG was able to win this game behind a stellar rushing attack, primarily from Devontae Jackson who accumulated 167 yards and a touchdown on 35 carries. This allowed Dean's team to have nearly 20 more minutes of possession than UWA, nearly doubling them in that regard.
"He's small in stature but he's got a big heart and runs the ball very hard," said Dean. "There were a lot of times today he was knocking dudes backwards. He's doing whatever he has to do to win football games for us.
"We knew we were gonna have to run the ball because their safeties were playing so deep, we weren't going to be able to make deep throws on them," continued Dean. "The big key in that game was how well we ran the ball in the second half. That says a lot about how hard our guys work in the weight room to prepare themselves for every Saturday."
The Wolves will take their undefeated record to play at Mississippi College this Saturday before Senior Day occurs on Nov. 3.
Comments
comments