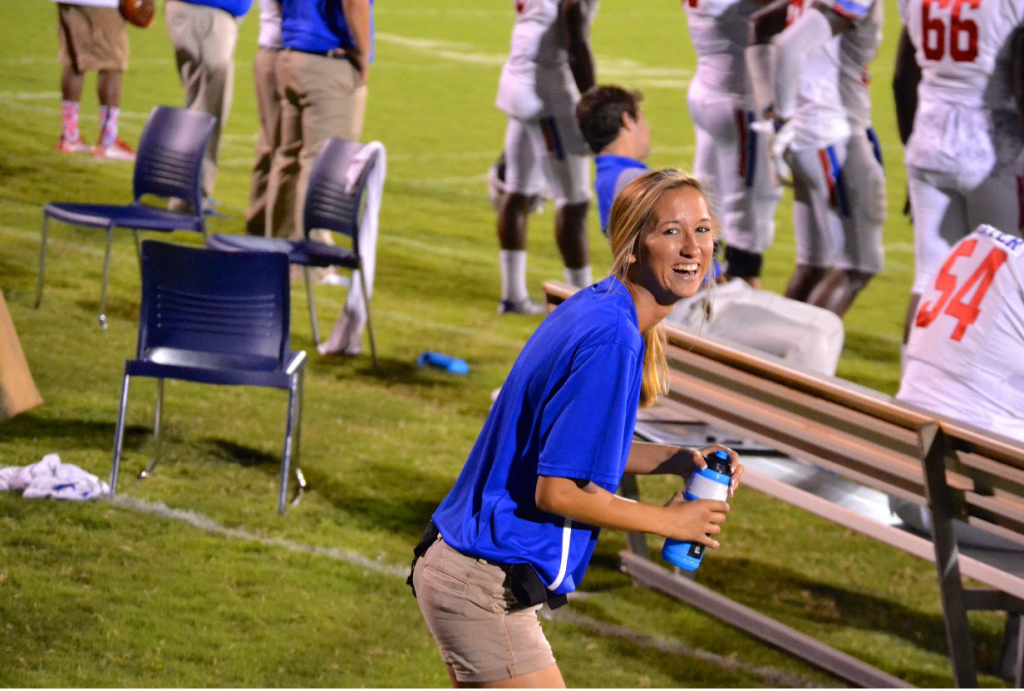 Hannah Braxton, a volunteer trainer for the UWG football team, spends nearly 40 hours a week working with the football team. She attends six-hour practices three times a week along with her 10-hour days during game day, and has done so for the past four years.
Braxton, an athlete herself in track and field, was reluctant when first presented with the opportunity. It wasn't too long, however, before she realized it was something she wanted to do.
"It started at orientation," said Braxton.
"The
sports administrative staff had a table to sign up to volunteer and I signed up. I didn't jump right into it because I was originally on the track team. About two games into the football season I decided to go to the training room and ask about it; and I began from there."
Though the job is strictly voluntary, student trainers serve an important role to the football program. They help hydrate the players, assist with wrist and ankle taping and help with smaller injuries. Each student trainer has a specific task assigned to them before the game, to make sure that the team is assisted with anything they need.
"When
we all work together as a group, it makes everything easier," said Braxton.
Though the job is not always stressful Braxton still takes classes on top of her 30-40 hour weeks working with the team. Her and her colleagues put in the same hours as college athletes while going to practices and balancing schoolwork; making the work far from simple.
"I
wish people didn't just see us as water girls," said Braxton.
"We
spend more time at the athletics building than some of the players at times; and there's a lot of behind the scenes stuff that we do as well that isn't seen on the practice and game field."
Braxton has also expressed that this job has given her a greater love for the sports world. Upon graduation she would love to either be a personal trainer or an athletic director. Upon experience, Braxton has also expressed that being a volunteer trainer has given her great memories and friends.
"I
think it's important to me because I have been a part of the group for going on four seasons," said Braxton.
"They
were my first group of friends when I came to school here. I value the friendships I have gained from being a volunteer."
Comments
comments