Art comes in different forms and fashions. It can be expressed through painting, literature, dance and music. It is a beautiful thing because it allows people to express emotions and meanings through creative activity.
There is a stigma that artists face about becoming known as a starving artist. Starving artist is a colloquial term for someone who sacrifices their material well-being in order to focus on their artwork. They usually live on minimum expenses, either due to the lack of business or because all their available income goes toward art projects.
The thought of being a starving arti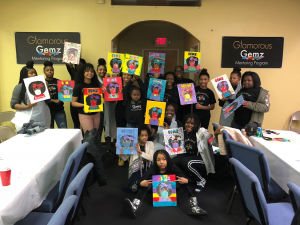 st hinders the minds of artists and plays a part in the decision to give 100 percent effort into art. People have been known to do art on the side due to the stigma that artist face.
"Money should not be a reason for someone to determine what they want to do," said UWG senior, Jasmyne Johnson.
Johnson was on the tennis team in high school and excelled at the sport.
She received offers from Breneau and Clemson, but faced a traumatic halt due to complications with her health. The complication later disabled her from playing tennis. Johnson had to look into another direction in order to find her focus for school. She chose to lean towards art, her hidden talent.
"I loved art way more than I ever loved tennis but I never would have pursued it without the bad things that happened and the fear of being broken or not being able to support yourself," said Johnson.
Johnson visited a tunnel located on Krog Street in Atlanta where art is exhibited from a wide variety of artists. When she first attended the tunnel, it brought her to tears. She started to appreciate art more and became a better artist which began to display throughout her work.
"I realized how simple things came to me. Anybody can draw but I think it is really hard for people to come up with original ideas," said Johnson. "For me, both of them became easy. I also enjoyed peoples reaction to my work. I enjoy the whole process of it. Art is just beautiful to me and I never thought I would love something this much."
With her hard work and networking, her friend informed her about an opportunity to display her art. The opportunity was an event hosted by Amber Rose called the SlutWalk. The SlutWalk is a day event located in Los Angeles with the mission to take a stand against sexual injustice, victim blaming, and derogatory labeling. To enter the event, Johnson had to submit her work to California, but was overwhelmed with the price of shipping her artwork.
"I emailed them to thank them for the opportunity and explained that I could not afford to ship my work," said Johnson. "Then Amber Rose emailed me stating that she admired my work and that she would pay for it to get flown out here. They paid for half of my plane ticket to California also. I was really appreciative and I saw the support that came from art. If this was the first thing that I did and it took me to LA, there is no telling where art can take me. That's why I chose to stick with it."
With Johnson's art expertise and knowledge, she became intrigued with educating others by instructing art classes. She was influenced by people who taught Sip and Paint classes and wanted to take on the challenge of teaching others. The most recent opportunity that she had was under an organization called Lotus Inc. The organization is for single women with breast cancer and is a fundraiser for them to receive some type of support during their time of triumph.
"It is really fun to see other people create art and teach them how to create it. It just more of a relaxed way to paint," said Johnson.
Johnson has overlooked the stigma about the "starving artist" and is displaying that it does not apply to her. One of Johnson's goals is to be an artist for the botanical gardens. She has chosen to put full effort into perfecting her craft. Art was a great decision that she made despite the burdens that she faced in order to go after what she really loved.
"If you follow your passion, you will find success in whatever you do," said Johnson.
Comments
comments