On Sept. 30, the line wrapped around the Rialto Center for the Arts in Atlanta as fans anxiously waited to enter first stop on The Read Live 2017 Tour. "The Read" is a New York City based pop-culture podcast which features Witty Banter from Close Friends and media personalities, Kid Fury and Crissle West. Hailing from Miami, Florida, Kid Fury is an award-winning blogger and comedian with close to 124,000 subscribers on YouTube.
Fury's co-host Crissle is an Oklahoma native, published writer and comedian who has been featured on several MTV shows such as "Uncommon Sense", "Decoded" and Comedy Central's "Drunk History". Some titles of popular episodes include "Make America Jennerless Again", "Noprah Winfrey", "Smell & Taste" and "Bi, Bi, Bi." The podcast also has opened their doors to notable guests such as Issa Rae, Charlamagne Tha God, and more.
"The Read" consists of several segments. The show starts with Fury acting out a famous movie quote followed by "Black Excellence", where Fury selects a notable member or action of the Black community. Next on the list is "Hot Tops", in which Crissle and Kid Fury discuss anything new in pop culture while making a mockery of ridiculous celebrities and their antics. Following Hot Tops is "Listener Letters."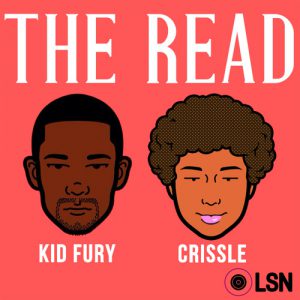 Crissle randomly picks e-mail letters, which are often full of betrayal and secrets, from the audience in search of candid advice from the hosts. Lastly the show's title, "The Read", is the final segment. Read is an urban colloquialism coined by the Black Gay community in the 70s, meaning to tell someone about themselves using humor and insults. Usually reads are directed to the most outrageous things happening in not only the pop culture world but in news as well.
With its first episode dating back to March 2013, Fury and Crissle continue to be a voice for the urban millennial, Black people, women and the Queer for the past four years. Although it is packaged as a comedy podcast, "The Read" often transcends into other realms and covers topics such as race, gender, sexuality and politics.
The duo has hosted live shows in major cities such as London, Seattle, Amsterdam, and Chicago. "The Read" is currently still on the American leg of their 2017 Tour and has upcoming dates in Los Angeles, New Orleans, and Charlotte. To stay updated with tour dates, visit their website ThisIsTheReadLive. To listen tune into "The Read", check iTunes Podcast, Soundcloud, iHeartRadioTalk, Stitcher and Loud Speakers every Thursday.
Comments
comments