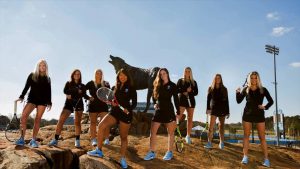 The UWG women's tennis team will be taking a road trip to Pensacola, FL from April 6-9. The Wolves will be competing in several matches against conference rivals including Delta State, Valdosta State,West Florida and Christian Brothers over the course of the three days trip.
The team has had a season plagued with injuries but hopes to be at full strength for the road trip. Jordan England, the team's number one player, is recovering from surgery on her appendix.
"Being healthy for the trip is the most important thing," said Head Coach Michael Coleman. "If the team is not at full strength they run the risk of forfeiting points and putting their tournament chances in jeopardy."
With several seniors and juniors on the team who will be leaving in the coming years, the impressive play of freshman Brooke Kane has been a massive plus.
"Brooke Kane has been a bright spot this year. Brooke has had to step up due to injuries and will look to continue improving during the three-day trip," said Coleman. "Brooke and the other freshman hope to help the seniors get payback as well as see the postseason before they graduate."
The team will use this trip to continue working to improve their doubles play during the road trip.
"This road trip will see the team continue to get better at doubles to alleviate pressure on the singles play of the team," said Coleman.
The Wolves will be playing for redemption during the trip. They lost last year's matchup against Christian Brothers in very close sets. The matchup with Delta State will also have the Wolves fired up as last years matchup became very heated. With revenge on their minds, the team will need to bring a winning mindset if they want to participate in the postseason. 
With the season coming to an end this road trip is extremely vital. The Wolves hope to continue working on everything they have practiced throughout the year and try to turn that into wins. With playoff implications on the line, this trip to Florida is truly a win or go home situation.
Comments
comments