Carrollton's newest recreational attraction Timberwolf Axe Throwing officially opened its doors to the public Monday, Feb. 1, despite the uncertainty of the COVID-19 pandemic.
Opening day welcomed individuals ages 10 and older to take the leisurely activity of dart throwing to the next level. During its one-hour time slots, customers attempted to hit the wooden bullseye with none other than an axe. Co-owner of Timberwolf Axe Throwing, Nathan Kistler, said business was rather slow the first few weekdays but was expected to pick up over the weekend with pre-booked reservations and walk-ins.
"We had probably 10 to 12 people come in each day," said Kistler. "The middle of the week is not a normal busy time, and we knew that. We have decent groups booked ahead of time for the upcoming weekends, so we're expected to be pretty busy as additional slots are booked."
Many would think introducing a new business to an area, let alone during a global pandemic, would yield plenty of obstacles to overcome. However, Kistler noted that it was easy to bring his favorite hobby to the college town even with additional COVID-19 safety regulations.
"In theory, it should have been a difficult process," said Kistler. "But honestly, it has been a pretty easy one. We're definitely doing everything we can to be careful and keep people socially distanced by keeping them in every other lane. We're not forcing customers to wear a mask though because that's their right to choose."
Each station is set up to accommodate up to six people per lane, and each group is expected to rotate out of the building after their hour of throwing. Customers should also be aware that after each rotation the station's table along with all of the axes are sanitized. In addition to COVID-19 health precautions, the safety of those handling axes is of utmost importance to Timberwolf Axe Throwing. Before each session participants are given a demonstration of proper throwing and standing techniques, and a staff member watches the duration of the session.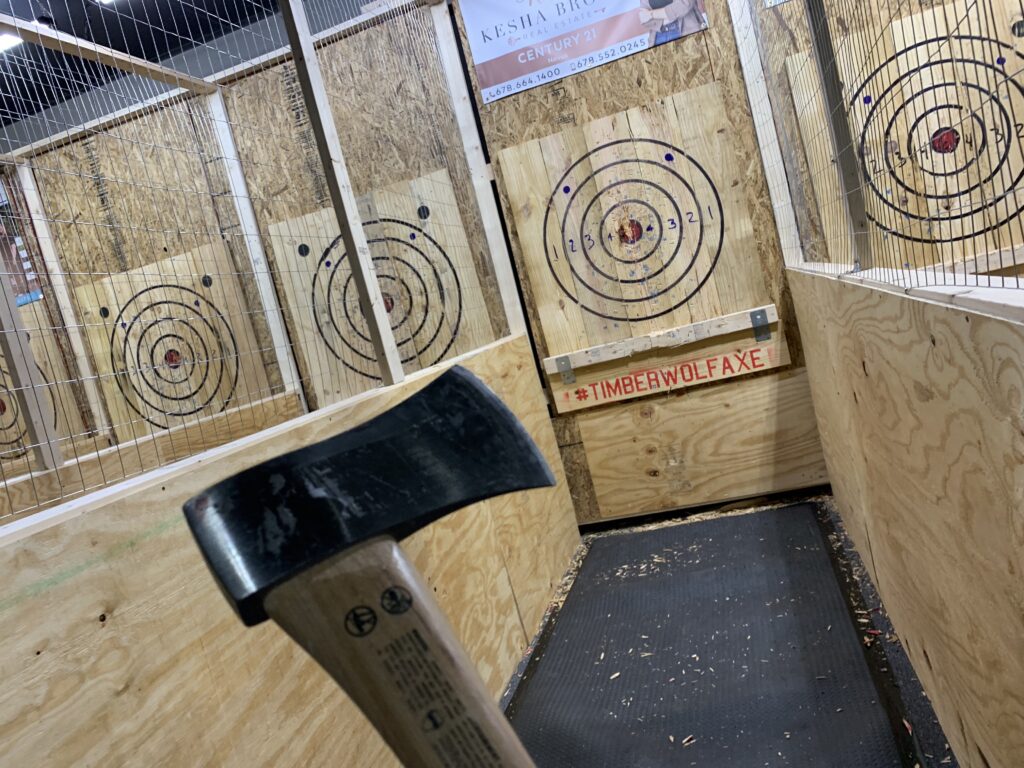 Despite having just opened the owners are excited for new activities to be opened that allow customers to enjoy a different experience each time they visit. In addition to the wooden bullseye, more axe throwing games such as the tic-tac-toe are soon to be introduced.
"We are adding things every week," said Kistler. "We have drinks and snacks, and we're also working on putting in some arcade games in one part of the building for people to enjoy while they are waiting to throw."
Although many businesses continue to close because of the impact of COVID-19, Kistler and his wife Amber, alongside their business partners, are eager to bring a sense of normalcy back to the community with safe, family-friendly entertainment after a year of hardship.
"For my wife and I, we're Christians," said Kistler. "Before we started this thing, we asked God to open doors if this is what he wanted us to do and to close them if not. All through that, he just opened every single door and made the path really easy.
"We hope this business provides a place where people can come with their family," continued Kistler. "We wanted to bring something to the community that was very family-oriented. We wanted families and church groups to have a place where they can go on outings and grow together—a place where they can build great relationships and friendships."
Comments
comments