Homecoming week is finally here as UWG gets ready to host several fun-filled events. "Ignite UWG Spirit" is the theme this year and the school opened the invite to Ignite to students, alumni, and community members where they can collectively express their school pride. With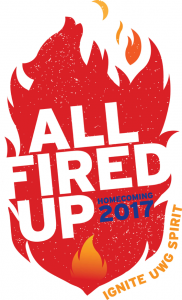 this week of exciting events leading up to the big game Saturday against Albany State, the Wolves are hoping to keep their win streak ignited. "Albany State is going to be a tough opponent for our homecoming game," said head football coach David Dean. "They have started the season by beating two traditional powers in Valdosta State and Tuskegee in the first two weeks of the season."
Before the matchup between the Golden Rams and Wolves sets off, there are plenty of activities to get involved in this homecoming week. An Ignite the Night Glowskate will be held Sept. 18 from 5-8p.m. in the Campus Center Ballroom where students can enjoy a glow skate party and free food. The first 200 students to arrive early will also receive a 2017 homecoming shirt. Other events include a banner contest held Sept. 19 at noon where students can prove their school spirit by decorating banners. Creativity is encouraged when making the banners since they will be hung on the UCC railing to promote ignite week. On Sept. 22, students can ignite the night with the Build the Bonfire event. This is a pep rally to celebrate old and new UWG traditions the night before the game. The bonfire is set to start at 6 p.m. at Love Valley.
UWG alumni have the chance to celebrate in the homecoming atmosphere as well. Carrollton's first brewery, Printer's Ale, is having a beer tasting tour Sept. 22 5-8 p.m. for only $10. Come game time, alumni can also enjoy the Chicken and Waffles Alumni Tailgate. The tailgate tent offers great food and a place for old friends to reunite before kick off. The tailgate begins at 11:30 a.m. on Saturday where fellow alumni's can enjoy a delicious meal and get ready to cheer on the Wolves.
An event involving anyone to help ignite the UWG spirit is the 4th annual presidential 5K. On Sept. 21, students and the Carrollton community are welcome to join the run. Starting at 6:30 p.m. the race will be held on the UWG campus, beginning and ending at The Coliseum. Prizes will be awarded to the top finishers immediately after the race. Following the 5K, there will be a Glow Parade where the community can line the streets and share their school spirit for homecoming week. It will start on Stadium Drive and make its way to Greek Village.
To cap off the fun week of ignite the spirit, UWG will host Albany State Sept. 23 at 2:00 p.m. The nationally ranked Wolves are proving themselves as a team and look forward to keeping that up with a win this Saturday. A game anticipating high energy and a big turnout will be a great advantage for UWG. The homecoming king and queen will be crowned at halftime. Igniting University Stadium will be the best send off for an exciting week ahead.
Comments
comments