The road traveled to becoming a collegiate athlete typically involves rigorous training and typically competing in a respective sport from adolescence. For Grovetown High School senior Carlos Rodriguez, a different path was taken.
On Oct. 10 Rodriguez announced his commitment to run cross country at UWG. The accomplishment of that alone is sublime, but what is so special about this commitment is truly incredible.
"This
is my first year doing cross country," said Rodriguez.
"Right
now I'm recruited as a walk-on, but the coaches said if I can get my time to around the 16 minute range that I'll be able to earn a scholarship."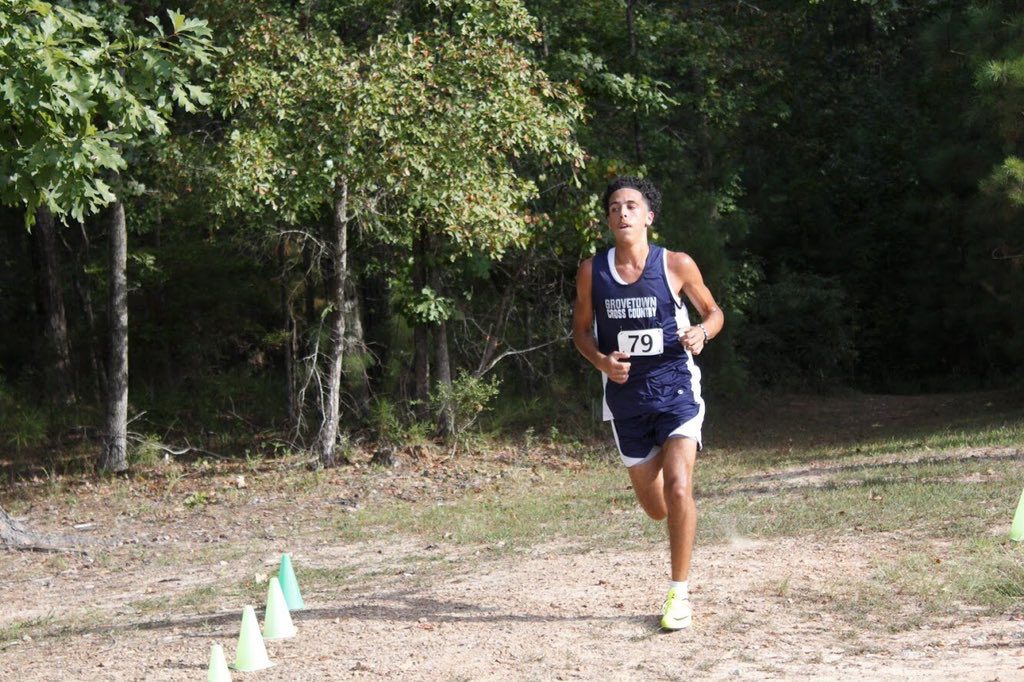 Rodriguez lived in New York for 12 years before moving to Grovetown, Georgia during his seventh grade year. The adjustment to the disparate culture took some time, but it has preceded a substantial amount of success that was to come.
"My
dad was in the military, so we came here with him," said Rodriguez.
"He
was always moving around but it was always temporary until we came here. At first the area was different and I was worried about meeting people, but I wound up liking living here better than in New York."
To conquer a sport as Rodriguez has and to achieve this level of success is purely remarkable. Simply discovering how good he was at running changed everything for Rodriguez, and persistence translated to expeditious improvement over a short period of time.
"My
first cross country meet I finished eighth overall and my time was a lot faster than I expected it to be," said Rodriguez.
"The
more meets I went to my time kept increasing, every time I was getting a new personal record. I realized that I'm good at this and it's only my first year so I'm gonna keep improving. At West Georgia I think my time is gonna increase by a lot."
The best opportunities regularly come as a result of hard work and dedication to bettering one's self, even when the inspiration to do so comes from an entirely different outlet. For Rodriguez his exceptional running ability was brought to fruition by his will to improve in another sport.
"I started running cross country in order to get in shape for basketball, which has always been my passion" said Rodriguez.
"I
wanted to get faster and be able to stay on the court longer without getting taken out so that I can be in the game whenever my coach needs me."
UWG faithful can thank Cross Country Graduate Assistant Coach Cameron Gatt for being able to discover Rodriguez's talent for running and helping him become better and eventually commit to the Wolves.
"I've
been in touch with him since the beginning, he reached out to me about the walk-on offer and ever since then we've stayed in touch," said Rodriguez.
"He
showed me and my mom around on the visit and was very supportive about everything. I feel like he just really cared about me as an athlete and it's nice to know that the coaches are like that. I loved everything he had to say."
After engaging in recruiting talks with Jacksonville State and briefly with East Tennessee State the decision to commit to UWG became easy for Rodriguez after his initial visit to campus.
"I
went on my visit on Sept. 28 and it went great," said Rodriguez.
"I
was originally supposed to visit Jacksonville the following week but I canceled it because I loved being at West Georgia.
"I
saw some of the classrooms aren't that big and I really liked that," continued Rodriguez.
"Coach
Gatt also was saying how there's a mandatory study hall for cross country runners so my parents really liked that as well. Education means a lot to me."
Trying something new allowed Rodriguez to discover an astounding proficiency within himself and led to an incredible opportunity for he and his family. He will only get better, and has a chance to become a true staple of UWG athletics down the road.
Comments
comments