After a remarkable 10-0 start to the season, the UWG football season came to an end with a 41-31 loss to Wingate in the first round of the NCAA Division II Football Playoffs.
"I feel like I let these guys down," said head football coach David Dean. "I told them in the locker room that I felt like I didn't get them ready to play. This was a frustrating week with the weather but that's not an excuse."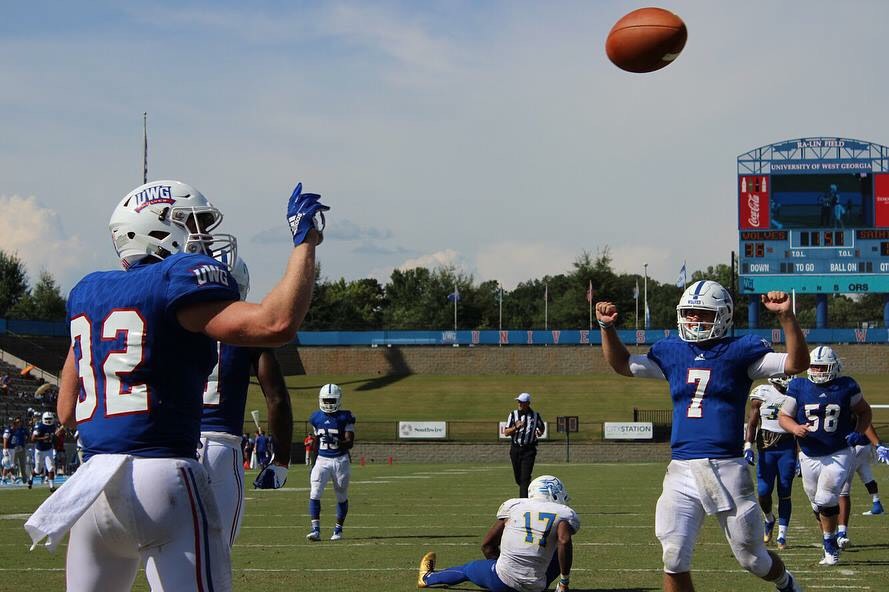 The game was back-and-forth throughout the first three quarters with the Wolves holding a 31-27 lead at the start of the fourth quarter. Senior running back Devontae Jackson, who ends his illustrious career with several all-time program records, totaled 16 carries for 122 yards and a touchdown in his final game.
"For these seniors that came through this program, what an outstanding career they've had," said Dean. "Outstanding young men that will be missed and I hate that they just played their last game."
The Wolves were dealing with several key injuries on the offensive end and were without one of the best defensive players on the team, Tyler Jack, for most of the game.
"It hurt us, but it didn't kill us," said Dean on the injuries. "We were still in the games and had an opportunity to win them."
UWG's offense found its best rhythm in the third quarter with back-to-back touchdowns from junior quarterback Willie Candler; who had a phenomenal season completing 66% of his passes for 2,681 yards and 30 total touchdowns along with 570 rushing yards. Unfortunately the momentum would not carry into the fourth quarter as it continually had all season for the Wolves.
"You just gotta get yourself going and in a rhythm," said Candler. "We joked around and said that we're a second-half team and a lot of that comes with execution and rhythm offensively and we just couldn't keep that consistent for all four quarters."
This season was far from easy for UWG as they put every ounce of blood, sweat and tears into one of the most successful seasons in program history. The team faced consistent trial and tribulation yet never let it stop them from progressing onward and accomplishing a near-perfect regular season.
"You guys truly do not know what these kids went through all year long," said Dean. "For us to go 10-2 with what these guys had to face is remarkable and I respect these kids so much for what they have endured.
"There are a lot of teams in the country that would not have continued to fight as hard as these kids did," continued Dean. "This is a special group of kids. It hurts to see the seniors walk out of the locker room for the last time but I take nothing away from them; they've had a great career here."
As this season ends, a new one begins as coach Dean continues to build and aim higher in what will be his third season as the Wolves head coach.
"Number one: We gotta learn from the past two games," said Dean. "They've got to learn from this hurt and not let it happen again. We've got to work very hard in the offseason."
Comments
comments