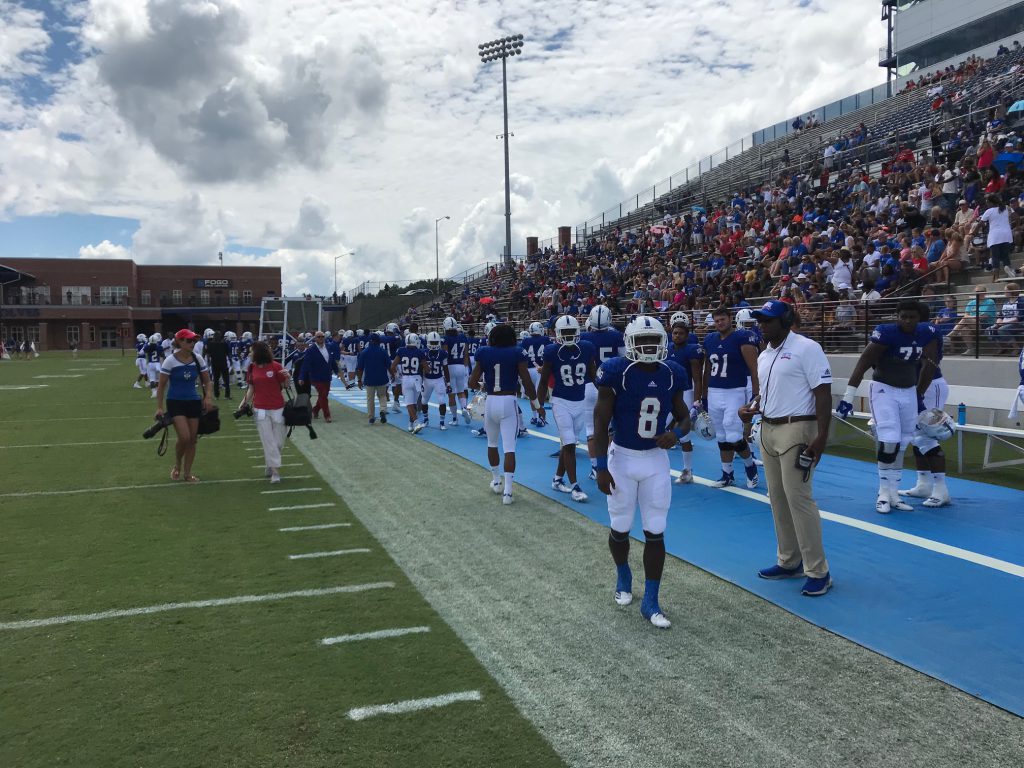 The UWG Football team defeated the Catawba Indians in their season opener in dominant fashion with a score of 34-3 in front of 3,200 fans at University Stadium.
Star running back Devontae Jackson had 19 carries for 95 yards and one touchdown. During the game Jackson moved into 4th place on West Georgia's career rushing yards list with 2,814. Jackson is also just 400 all-purpose yards away from breaking Mark Evans' program record.
"When you have a guy like Devontae he's gonna carry a big load for us," said UWG Football Head Coach David Dean. "He's a playmaker for us and we're gonna find a way to get the ball in his hands because he can change the momentum of a game in a hurry. I just can't give this guy enough credit."
Despite his superstar status, Jackson will tell you the best play he made in the game was making a block for his teammate.
"I always like to help out my teammates, and I feel like that block really helped Malik (Henry) get some more yards," said Jackson after the game.
The Wolves showed more firepower in their offense than just Jackson. UWG totaled 205 rushing yards and 5-yards per carry. Sam Ndem totaled 42 rushing yards on 4 carries and quarterback Willie Candler had 7 carries for 38 yards.
"We proved that we can run the football," said Dean. "There's a lot of guys on that front five that just made their first start and I'm really proud of the way they played."
UWG's defense was the most impressive aspect of the team's play Saturday. The Wolves held Catawba to just 195 total yards of offense (109 Passing, 86 Rushing), recorded three sacks and had two interceptions from Montrell Pardue and Austin Barron.
"I'm really proud of Montrell and our defense, what an outstanding game they played," said Dean. "Our defensive front line was pressuring the quarterback all afternoon."
The first half of the game was tightly contested, as the score was 7-3 at halftime. Catawba was leading the game 3-0 and were in the red zone when Pardue got his crucial interception. After that, Catawba had nine drives end in punts and two more in turnovers. For that very reason, Pardue was named Defensive Player of the Game.
"It definitely did change the momentum just to not be in the redzone and get the ball back to our offense," said Pardue. "I think we did great as a team to come back and fight through our adversity and the pick just helped us do that."
The ultimate highlight of the day was a 62-yard punt return touchdown from K.J. Parmer early in the fourth quarter. Parmer had to turn around and switch direction multiple times before finding a lane to the end zone that made the score 27-3.
UWG will be playing at home this Saturday against Limestone, whom lost 52-17 to a D1 school in Gardner-Webb last week.
Comments
comments