The University of West Georgia is offering women's self defense classes as part of the Rape Aggression Defense. The five-week self defense classes will focus on what is needed in order to keep women safe on campus and everywhere they go.
"The thing I hope to teach the students is self-confidence in themselves," said Lt. J. Michael Keener, Patrol Division and Evening Watch Commander for the UWG Police. "The techniques taught in the class are effective but you have to be confident in yourself to successfully implement them."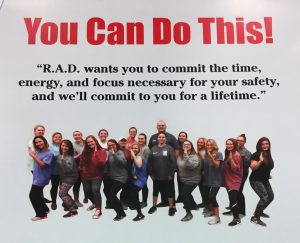 The fall session began on Wednesday, Aug. 30, and will continue on until Wednesday, Sept. 27.
"We currently offer one course per semester, but additional classes are offered on request to groups who are interested," said Lt. Keener. "We have taught courses for sororities, faculty, staff, and community groups."
The history of this self-defense class dates all the way back to 1980, then making its first appearance at UWG in 2003.
"This class was originally designed by a University of Virginia police officer in the 1980s," said Lt. Keener. "He determined that the type of techniques taught to women were ineffective and sought to alter the philosophy behind women's self-defense."
Lt. Keener notes that the Virginia officer used different methods in order to effectively teach women self-defense.
"The University Police saw the need for a comprehensive and effective self-defense course for women in our community," said Lt. Keener. "By that time, R.A.D. was the largest and most successful program and was an obvious choice."
Self defense is typically defined as being able to defend oneself from threats, but it means something even more to Lt. Keener.
"Every life is sacred and you have a duty to protect yourself," said Lt. Keener. "This philosophy [self-protection] encourages someone to pursue self-defense as a lifestyle."
Lt. Keener also encourages women to use the tools they are taught in order to protect themselves as well as others.
"They should seek self-improvement with the goal of being capable of protecting themselves and their loved ones from threats," said Lt. Keener. "Georgia Law says anyone has the legal authority to protect themselves and others from harm but must use objectively reasonable means to do so."
There are many helpful tools taught in the women's self defense classes; however there is one specific word of advice Lt. Keener has for students.
"The most important "move" taught in the class is to be aware of your surroundings at all times," said Lt. Keener. "We believe that all women have this right (to protection), and we hope to give them the tools necessary to be safe."
The fall self defense classes are coming to a close; however, they will be offered again next semester, or by request.
"Self defense is every person's right and responsibility," said Lt. Keener. "The techniques and information you learn attending the course may save your life."
Comments
comments