The University of West Georgia's Theatre Department will be putting on two shows this fall
in the Townsend Center for the Performing Arts,"Evil Dead: The Musical," directed by Shelly Elman on the main stage and
"Macbeth,"
directed by Christine Fuchs in the Townsend Center Dangle Theatre just one month after.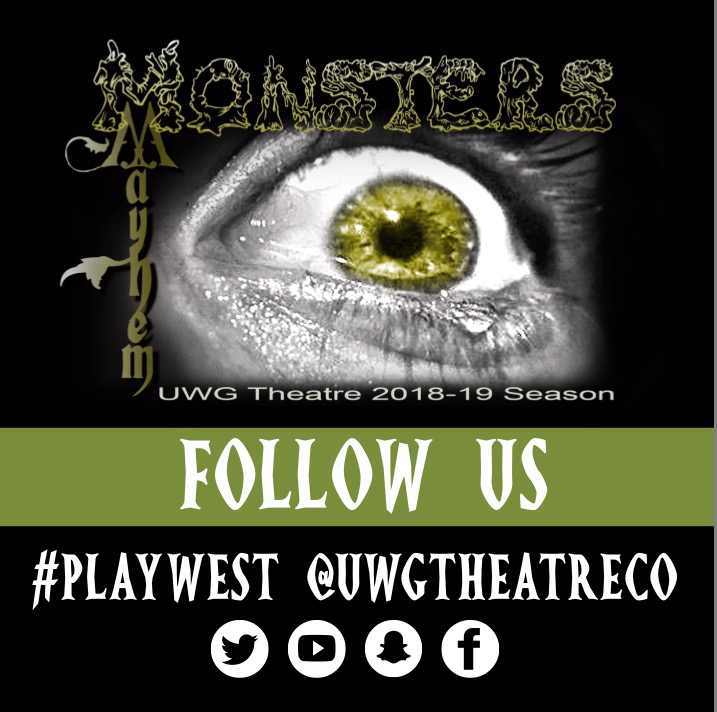 "Evil
Dead: The Musical", as well as the book and lyrics, are by George Reinblatt and are based on the films in the
"Evil
Dead" trilogy. This musical follows five college students who find an abandoned cabin in the woods and accidentally free an evil force that turns them into demons. Heroes and Housewares employees, Ash and Linda, hear about the demons and try to save the day with all the kooky drama, and fun songs to go along with it.
"We
always want to start the season off with a bang," said Elman.
"Macbeth",
or
"The
Scottish Play", is the well known Shakespearian play about Macbeth, a Scottish general who receives a prophecy that one day he will be King of Scotland, which leads him on a road of murder, greed, guilt and deceit. Is the crown really worth all of the death?
The Shakespearian show is not only a welcomed challenge for the University, actors and designers, but it allows for matinee slots for the surrounding high schools.
"We
usually try to pick a show that may be in their curriculum or is a topic that they cover," Elman said.
"'Evil
Dead' will have blood and guts and great music and zombies, and is also close to Halloween making it some pre-Halloween fun seems to be right up the students alleys and Macbeth is dark and shadowy and very easy to understand."
"Evil
Dead" have already begun and for the first couple of rehearsals, the cast will be focusing on the music and the choreography; which Elman has said has a bit of Rocky Horror vibes to it.
Rehearsals for
"There
is a big dance number in the show called
'Do
the Necronomicon.' That is like this show's
'Time
Warp.'"
"Evil
Dead: the Musical," Oct. 10-14, 2018 and
"Macbeth,"
Nov. 7-11, 13-16, 2018.
During that time, the theatre is hoping that audience members will feel the urge and get up and dance along. The show dates for this semester are:
Comments
comments