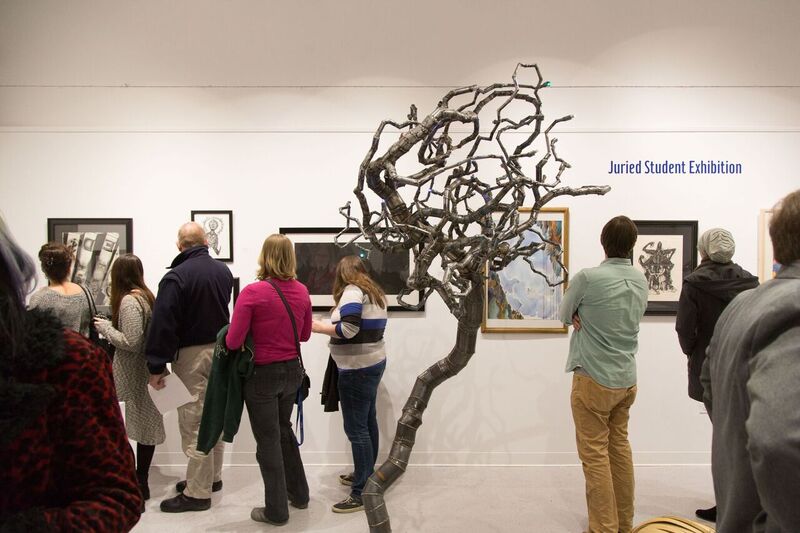 The 2017 Juried Art Exhibition will be held at the University of West Georgia from Jan. 26 to Mar. 2.  The exhibition takes place during the spring semester in the Bobick Gallery and Gallery Two, which are both located in the humanities building. This exhibition is an open event for all during the weekdays from 9 a.m. to 5 p.m.
"Exhibiting work is an important opportunity for all artists.  At the student level, it provides an opportunity to learn skills that are not always a part of the art making practice," said Assistant Professor Mark Schoon.
Students may submit up to five different pieces of artwork for consideration. Even if the students work is accepted, it might not be accepted in the show the next time. Funding is also available for pieces to be purchased. For each exhibition, a different Juror is chosen to select which pieces will be in the show. The Juror is a person that doesn't see the students work beforehand.
"Since an outside juror curates our student exhibition it provides a non-familiar voice of criticism," Schoon said. "It offers the experience of dealing with acceptance and perhaps more importantly, rejection, a critical part for anyone working in a creative field."
This year's juror is artist Yu-Kai Lin, owner and director of Kai lin Art. Yu-Kai graduated from Emory University in Atlanta, with a Bachelor of Art in Music: Piano performance. He has gained much recognition over the years, including being in Jezebel Magazine's Best of Atlanta and Atlanta Business Chronicle as a 40 Under 40. Besides being a Juror for this exhibition, Yu-Kai has collaborated with several organizations including the High Museum of Art, Coca-Cola, Atlanta Botanical Gardens, Fox Broadcasting company and many others in the surrounding Atlanta area.
The Awards ceremony and reception, is held on the night of Jan. 26, from 5 p.m. to 7 p.m. Several awards are given out, based on the Jurors decisions. The show gives the students their chance to show off their hard work, and what they are passionate about.
Bruce Bobick, former art professor at UWG, created the Juried Art Exhibition in 1984. His goal was to try and raise the standards and level of interest in the visual arts in the West Georgia area. Many professors at UWG still have this same hope.
"The Art Department at UWG offers students a rich cross-disciplinary experience that gives them opportunities to engage with world in meaningful ways," said Schoon. "Students are provided repeated opportunities to learn technical and problem solving skills, critical thinking, history, theory, and social engagement."
With this being a major event for the UWG Art Department, it provides current students insight, and prospective students a glance into what their learning outcome will be.
"Ultimately, we hope for students to leave our program as well rounded artists who are ready to use these refined skills and abilities in whatever direction most aligns with their goals," Schoon concluded.
Comments
comments